Kidz Gear:
Kids Gear
is a company founded to develop stuff for kids. Instead of the usual low quality/low cost products usually geared toward kids, they want to manufacture high quality/low cost products. Headphones and several accessories are the first products released.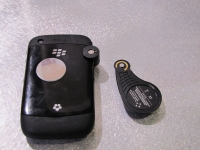 First released is the standard wired headphones. These quickly became popular with kids as they were developed with high quality components that are found in many standard adult oriented headphones. They are lightweight so kids can take them anywhere; in the car, on a plane, or just running around the house.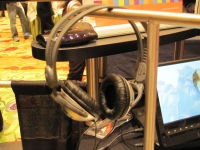 Of course wired is nice, however wireless comes in handy in many situations. Kidz Gear now has a wireless version that uses the same high quality components as the wired version. Wireless is more expensive than the wired version however there are several advantages. The IR transmitter (sold separately) can transmit to multiple headphones. With the wired version you would need to use cable splitters to attach multiple headphones for several kids. With the wireless, simply purchase the wireless headsets and you are good to go.
I was given the opportunity to use the headphones, and while I am not an audio expert the sound quality from both models were more than satisfactory. The bass was deep, sound was crisp/clear, and the headphones were comfortable even on an adult head. The wired version can be found for $19.99 or less, and the wireless version retails for $34.99, but can usually be found for less than $29.99. To use the wireless version an IR transmitter is also necessary and can be purchased for $14.99.
AverMedia:
SnugTV
is a new online service which allows you to use your home computer (equipped with an AverMedia TV tuner) as a TV broadcasting system when you are away from home. What this means is you can set it up so when you have access to the internet you can connect through SnugTV to your home computer and watch whatever is on TV. In addition, you can connect to SnugTV in other countries so you can watch TV from there. Currently it is free, however it will allow you to watch 1 hour of TV, then it will disconnect you. Simply reconnect and you are good to go for another hour. AverMedia is looking into possibly extending that, as well as potentially offering a subscription service where you could watch all you wanted without being disconnected.
In a few months AverMedia will be introducing a new TV media player which allows you to watch your media files on your TV. This new player will include a full web browser, RSS reader, USB keyboard support, streamable media from a networked PC, and no storage. While there is no storage on the device you can add an external hard drive through USB or eSATA. In addition you can connect to your network wirelessly through a USB WIFI-N dongle which will be included on some models.