Mad Katz:
For those that weren't aware, back in 2007 Mad Katz acquired Saitek. Saitek is a leading manufacturer of PC accessories, while Mad Katz is known for manufacturing gaming console accessories.
At the Digital Experience event, Mad Katz was presenting the first Mad Katz/Saitek keyboard, which will continue with the Saitek Eclipse naming convention;
Eclipse Touch
. It will come in two models, wired and wireless. Expect the wireless version to cost around $129.99 and the wired version around $80; both models should be available in Spring 2010. What makes this keyboard different from other Eclipse keyboards is the standard 10-key has been replaced with a touch sensitive 10-key.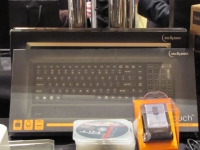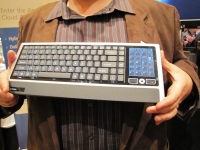 Touch sensitive products always concern me as early generations are hard to use, have to be pressed hard, or are very unresponsive. The Mad Katz Eclipse Touch does not have these issues. The touch portion is very sensitive, and does not need to be pushed. What is nice is that since it is electronic, the user can change the 10-key away from the usual keys. There are three modes available: Eclipse (Application), 10-Key and Multimedia. Included on the wireless model is a mini trackball, and has an expected range of 30 feet.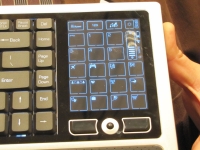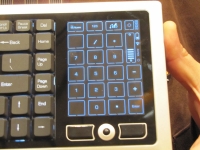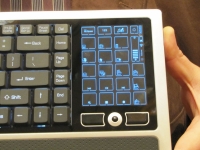 Currently available, Mad Katz has the
Eclipse Touch Mouse
available for $59.99. The Eclipse Touch mouse is based on Bluetooth, so it has a range of around 30 feet. The Touch portion of the mouse is where the usual scroll wheel is. Instead of a wheel, it is a touch sensitive area which allows you to scroll and go right/left. In addition you can activate applications by holding down the mouse button and using the touch wheel.