CoolIt Systems:
CoolIt Systems
manufactures high quality liquid cooling products, and some of these can be found in Dell, Alienware, Velocity Micro, MAINGEAR, BFG, and Shuttle to name a few. The Domino A.L.C. was a 2009 CES Innovations Design and Engineering Award Honoree. In 2010 CoolIt Systems received four CES Innovations Awards and four world first designs.
The
ECO A.L.C.
is designed for mainstream consumers that still want high performance. The ECO A.L.C. is a factory-sealed, maintenance free, easy-to-install, whisper quiet, superb performance cooling solution. The ECO A.L.C. is available now and retails for $74.99.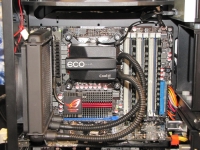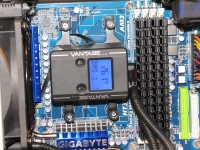 The
Vantage A.L.C.
is the world's first "wireless-ready" CPU cooler. It has an 84 x 48 LCD screen and 2.4GHz wireless communication module which provides connectivity to CoolIT's Maestro software and USB wireless controller. The Vantage is expected to begin shipping in February 2010, with a retail price of $124.99.
The
Omni A.L.C.
is the first universal full size GPU cooler. It has a heatsink developed specifically for each graphic card, which allows the OMNI universal water block to be installed on many video cards. In addition, when a new video card is released, you do not need to replace the entire OMNI system, simply purchase the updated heatsink and install it on the new video card. The price and availability of the OMNI will be determined by model of heatsink needed.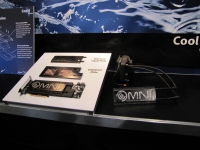 Super Talent:
A
USB 3 RAID Flash Drive
is the latest innovation by Super Talent. Available in 32GB, 64GB, and 128GB sizes utilizing RAID 0 it should be the fastest USB 3.0 flash drive available. Expect to pay a high price for this USB flash drive, estimated to be around $500 for the 128GB model.