Thermaltake:
Thermaltake
did not have the typical booth at CES, instead they opted for a private suite and invited guests to see their display. On display was a range of products that included cases, hard drive enclosures, BlacX docks, fans, and power supplies. It would be nearly impossible to discuss everything Thermaltake had on display, instead we will discuss several key items.
Upon entering the suite, the first thing that caught my eye was the Thermaltake Level 10 case. This is a highly limited edition case designed by BMW. With a retail price of $699.99 it is out of the price range for many people. The high price is due to multiple reasons. The first is obviously... the quality and design of the case. Secondly the case is made out of Aluminum and Titanium. Titanium is expensive, but very strong.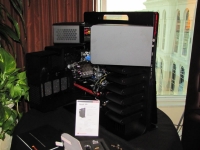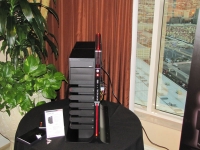 Back to reality, Thermaltake is also preparing for two other cases. The first is the Xpressar, this is again a high end case, currently costing between $500 and $600 to manufacture, however Thermaltake is working to lower that so the case can retail around $300. The second case is a new "V" series case, the V5 has a carrying handle at the top (useful when its empty, would be concerned of the weight after its filled). Expect the usual front panel connections on each of these, as well as other special features.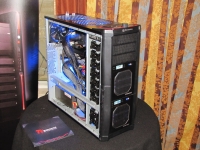 Continuing the ToughPower line, the 750W Grand will boast a new design inspired by the Level 10 case. It features rounded corners, a red strip, 80Plus Gold certification, PFC and PWM control. In addition, Thermaltake is going to produce a new line, the TR2 is designed for the mainstream user, so it should have a lower cost than the Toughpower line-up. However, Thermaltake will still maintain their usual high standards.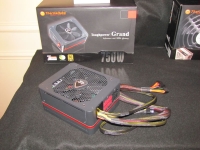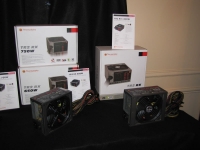 Thermaltake had an external USB fan on display. While nothing really exciting, I can see some major uses for this fan. Providing additional cooling for your home theater, computer or game console cabinet. With a 120mm fan and a speed adjustment, it is well worth the $20 to purchase it.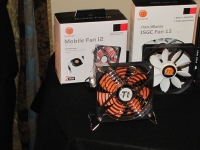 Of course Thermaltake has to show their coolers. Two current coolers, the Silent 1156 and SpinQ VT. In addition there was a preview of the new Frio. This is an overclocking cooler able to handle up to 225w of heat. Included is a single 120mm fan, a second fan can be added.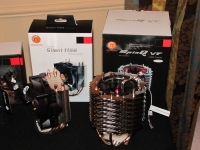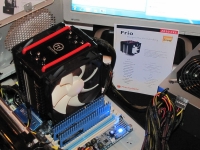 Other than the above mentioned items, Thermaltake has plans to offer several other new products. Specifically keyboards (with included cooling fan), mice, USB 3 BlacX docks, and other USB 3 enclosures.