JelFin:
JelFin
has one product currently available. A gel covered ball mouse with an optical sensor. What makes this mouse different from the many other mice is that it is shaped like a ball and covered in a squishy gel. To use it, you wrap your hand around the ball and cup it like you would a baseball, with two fingers resting on the left and right mouse buttons.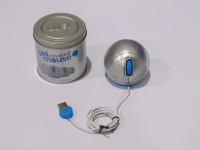 JelFin provided a review sample, and I was skeptical on whether the mouse would become comfortable to use. At first it felt a little strange, however after about 15 minutes I found it easy and comfortable to use. A small concern though, after a half day usage the gel cover was really dirty and there was a good amount of gunk under the gel cover; perhaps a different color of gel would be better. A personal preference is to receive some kind of feedback when I press the mouse buttons, the JelFin mouse provided no feedback when the buttons were pressed (unless you pressed them hard). You barely need to press the buttons for them to activate and pressing them hard felt awkward. Overall, it is a good mouse, the benefits of a ball mouse versus an ergonomic mouse would need to be studied by a professional.


Conclusion:
Many of the products discussed above are available now, others are expected to be available in the 1st or 2nd quarter timeframe. Keep an eye out for them, more information will be available when it gets closer to their release date.
If you have any questions on anything mentioned above, please check the manufacturer's website or ask in the forums.
Here are a few things Bigbruin.com will be keeping an eye on:
» USB 3.0
» SSD
» Mad Katz Touch keyboard
» Thermaltake keyboard/mice
» Zalman mainstream products
» Razer 360 controller and PC wireless controller
» CoolIT liquid coolers
» eStarling 10.2" Photo Touch frame
» Imogen HDMI flash drive and Touch PMP
» PowerMat enabled cell phone batteries
Please drop by the Bigbruin.com Forum and feel free to post any
comments or questions
.