Imogen:
Imogen Studio
was a company I was unfamiliar with. Previously they manufactured networked and web cameras. Imogen Studio is preparing to introduce two new media players.
Both will have similar features, playback of many file formats, 1080P video playback using HDMI, and expandable with Micro SDHC. The similarities end there; the Cinema Touch HD is a 5" (800x480) touch screen with 8GB of storage, while the Cinema Stick HD is a USB flash drive with 4GB of storage. The Touch is expected to have a retail price of $149.99, while the Cinema Stick should be around $99.99.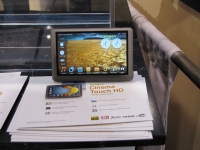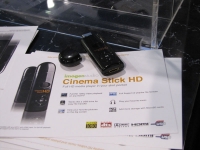 Distribution is still being arranged for these new devices. Keep an eye on their website for more information.
Zalman:
Zalman
is well known for making some great computer hardware including coolers, power supplies, and cases. While mainly used by enthusiasts so far, they are going to manufacture more mainstream products while keeping quality and performance we expect from them.
Currently Zalman has three CPU coolers in their 10x line, the Extreme, Quiet, and Flex. Each of these is designed for a specific need. Soon Zalman will introduce a new model, the 10x Performance. This model will not have the flash of the previous models and will be more geared to users that want to have high performance at a lower price. As this image shows it is plain, nothing to make it visibly more appealing. However in the middle of the cooler many of the aluminum fins will be wavy to provide more surface area for the heat to dissipate.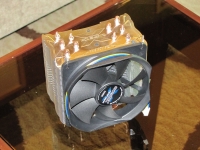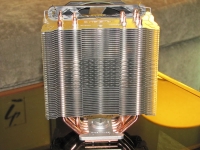 Zalman is expanding their ST power supply line-up to include a new 400W unit. This will have all the features of the previous 500W and 600W units. This is simply a reduction in power. 80Plus certification, high quality Japanese capacitors, dual PCI-E video card support, active PFC, and many other safety features will be featured on this power supply. Expect it to be at your favorite Zalman etailer sometime in the first quarter of 2010.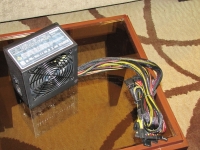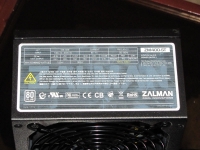 In an effort make their cases a little more affordable, Zalman is preparing to release the Z7 series. Look for it to have a tool-less installation, and the usual front panel connectors (USB 2.0, headphone/microphone). There will be two models, the Z7 and Z7+, both will be nearly identical, however the Z7+ will include side panel fans where the Z7 will not. This case is expected to be under $100 when it is available in late February or March 2010.