PowerMat:
PowerMat is a wireless charging company. While the previously mentioned Pure Energy uses conductive charging, PowerMat uses inductive. The difference is PowerMat does not pass an electrical charge to your device, they use a magnetic field to pass the charge. Where the Pure Energy method you simply place your device anywhere on the mat, PowerMat requires the device to be placed in a specific spot (you receive an audible acknowledgment when the device is placed correctly).
In 2009 PowerMat had two charging mats, each designed to charge up to 3 devices. In 2010, they are preparing to introduce several new mats. There will be two new sizes of mats, 1 device and 2 device. In addition they will have a portable charging station that will provide 4 full charges to your devices. The portable charging station will come with a soft sided carrying case.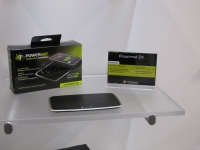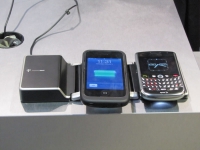 PowerMat is preparing to change from using custom backs to custom batteries. These will be a replacement for the OEM battery that comes with the phone. With this solution there is nothing on the phone to identify that you use the PowerMat, and would allow the user to use the battery cover that came with the phone or a custom one of their choice. Look for these in the 2nd Quarter of 2010, with a price of around $39.99. Many different models will be available at launch.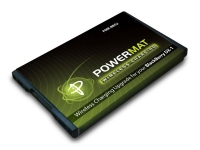 PowerMat will begin to offer kits for new users to get started with. Instead of purchasing the charging mat and the charging receiver separately, you will be able to purchase a kit that will include both of these. This is expected to be the single (1 device at a time) charge mat.
eStarling:
eStarling was giving private demonstration of their TouchConnect, a 10.2" touch screen digital photo frame. Digital photo frames are nothing new, however they are quickly gaining popularity. What sets the TouchConnect apart from other digital photo frames? Well, besides the touch screen aspect, it also includes wireless b/g/n connectivity, 2GB of on-board memory (expandable with SD), automatic firmware updates, the ability to sync with common social sites such as Facebook, Twitter, and other web-connected applications.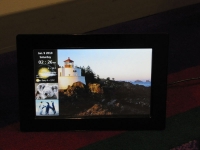 When you activate the side of the screen, you are presented with the built-in web connected applications, which include Picasa, Facebook, Twitter, Flickr, Google Calendar, RSS, and of course gMail. Once you configure these, the TouchConnect will check these for updates every 30 minutes, the expection is gMail which will check every 3 minutes.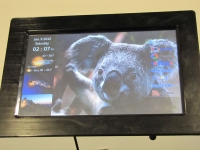 There are many features of the TouchConnect to cover. Watch Bigbruin.com for more coverage on the eStarling TouchConnect.