At this year's installment of the International Consumer Electronics Show, instead of being on the show floor
Seagate
decided to hold private appointments so questions could be answered without all the noise and interruptions that you might have to deal with out on the floor.


This article will take a closer look at some of the items Seagate was promoting. While they had all of the hardware we are familiar with, including the previously reviewed
Dockstar
and
FreeAgent Go
, we'll take a look at some of the new hardware they were showing off.
Pulsar SSD:
The Seagate Pulsar is their first entry into the SSD (Solid State Drive) market. Designed for enterprise settings, it is available now for select customers. Based on SLC NAND flash memory, it should rank up there in speed with other high performance drives. They are available with capacities up to 200GB, and boast a 0.44% Annual Failure Rate.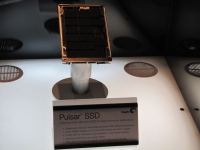 Hard Drives:
Seagate's thin hard drive is good for netbooks and portable devices. Don't expect this to appear in many laptops as it is not the standard size for laptop hard drives. Available in 160GB and 250GB sizes, it is only 7mm thick, which is a bit thinner than the more common 9mm drives. With 8MB of cache memory and a 5400RPM rotational speed, users should expect performance to match standard drives.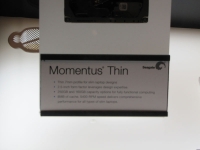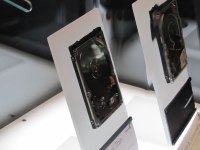 Seagate's Barracuda line has received an upgrade, and are now available with SATA 3 speeds (up to 6GB/s) and capacities up to 2TB. While it is capable of 6GB/s, it remains to be seen what the sustained speed will be. Expect to see more information on these SATA 3 drives in the near future. Of course, your computer needs to be compatible with SATA 3 to take advantage of the potential boost.