NZXT
is probably best known for building some of the most cutting-edge computer cases on the market. They are also the manufacturer of some of the most innovative case accessories available. In this review we'll look at the NZXT Bunker - a lockable, theft-proof USB hub shown in the promotional image below.


Before we get to the actual review, let's see what NZXT has to say about the Bunker on its
official product page
...
"Introducing the Bunker, NZXT's 4 USB Lock system, the first PC accessory contrived for USB expansion and protection of gaming accessories. Plug in gaming mice, keyboards, and headphones and lock it with a sophisticated 20 key lock system and durable locking door to prevent theft at LAN parties and schools. Secure your gaming accessories, game on assured."
Features:
» 4 USB Expandability
» Durable locking door prevents stealing at public locations like LANs, Schools, etc
» Sophisticated 20 Key lock system prevents users with the same device from unlocking your lock
» 2 year warranty
Packaging and Accessories:
The NZXT Bunker arrived in a brown box with a black and grey camouflaged theme. The front has the NZXT logo in the upper right-hand corner and the Bunker name prominently displayed at the bottom in the same spray paint stencil-type font used by the military. Flipping to the back of the box offers a brief description of the product, a list of the features, and two schematics that show how you'll use the Bunker. NZXT has thoughtfully included two measurements that tell the potential buyer the maximum length of the USB device that will fit. According to the drawing, the maximum length for the port closest to the hinge is 0.86 inches or 2.2 centimeters. For the other three ports, the maximum length is 1.6 inches or 4.2 centimeters.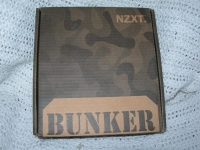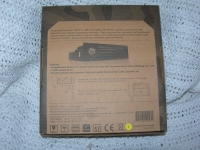 Included with the unit is a manual that describes the installation, operation, and USB device limitations. There is also a set of keys to lock the device's door and mounting screws to secure it into a 5.25" drive bay.