Conclusion:
Overall, the Breadcrumb Mini Portable Bluetooth Location Marker is a fairly simple device, but it could be extremely invaluable to someone using it. It worked quite well during my tests, and it made tracking down my marked object easy for me, and it would be just as easy for anyone I shared the details with via the Breadcrumb app. Testing was actually quite fun, as it was like a high tech treasure hunt with flashing lights and sounds to let me know I 'won'. I intend to alter the intended use of the device a bit and let my kids have a bit of fun with it by setting up a geocaching adventure. It can be hard to get them off their phones, but with this I'll at least get them outdoors for a while!
The overall functionality of the device was as expected, as the combination of 'glocating' and Bluetooth lead me to the general area, with the combination of the LED lights and audible beacon working well together to make sure the marked object was found. While the beacon wasn't overly loud, it could be heard from a distance in still conditions. If it had to compete with the sound of rain and/or wind, the LEDs were there to lead me to the finish line. While I would still prefer that an LED or two were added to the back of the PCB, I was satisfied with the array of lights found on the device. Because the housing is all translucent plastic, you do get a glow in more than just the direction that the LEDs are pointing. Plus, you can take steps to make sure the LEDs are pointing out when the Breadcrumb is affixed to the item to be tracked. The light on the opposite side would still be nice, just in case the tracker shifts or the item being tracked falls, so that you have the best chance of locating it again.


Whether you buy the Breadcrumb Location Marker from
Amazon.com
or directly from the
Breadcrumb shop
, the price is going to be $39.99 (US). Shipping is free with Prime from Amazon.com, while Breadcrumb will charge you (would be $6.95 for me to get standard shipping). But, you can subscribe to their newsletter and get 10% off your first order to help offset that. $40 is higher than what you would pay for other Bluetooth tracking devices, but this does offer features that you may not see elsewhere. For example, the Tile Pro is another Bluetooth tracker you can purchase for about $24, and it does have water resistance, an audible alarm, and can be tracked similarly via GPS and Bluetooth. But, the Breadcrumb uses more common AAA batteries (versus CR2032) which should give you longer life and a lower cost for replacement batteries, plus it includes the 5 LEDs to help you find it in addition to the audible beacon.
In the end, the
Breadcrumb
Mini Portable Bluetooth Location Marker earns the Bigbruin.com "Great Idea" award for its functionality and novel outdoors-man take on a high tech device.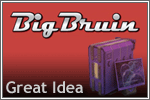 Pros:
» Design of the device allows it to be easily secured to most objects
» Combination of "glocating" and Bluetooth makes it easy to return to your marked spot
» LED lighting is adequate for discovery with low ambient lighting
» Proved to be tough enough and water resistant over two weeks in the woods
Cons:
» App occasionally does not connect to the Location Marker on the first try
» Beacon is not particularly loud and can be easily drowned out by rain and/or wind
» LED lighting on both sides of the device might be a good design improvement
Please drop by the Bigbruin.com Forum and feel free to post any
comments or questions
.