Setup:
With batteries installed in the device, the only other thing to do is to install the app and let it walk you through the setup process.


The five screenshots below cover the basics of this rather simple process. The first thing to do is either signup for an account or sign in to your existing account. This lets you track multiple Markers/Nocks, and is how you give authorization to share locations of your devices with others. Of course you must have Bluetooth enabled to continue. Then you start the pairing process, where it confirms to me that I have no other
Breadcrumb
devices in my account. As it scans to pair a device it will indicate any that it finds within range, and you can pair them by clicking "add". After a few seconds your Breadcrumb device will be paired and you can assign it a name to help you keep track of them. The setup is complete!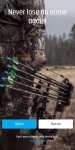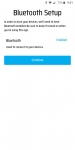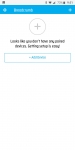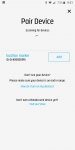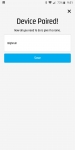 Once setup, the app provides a self test of sorts, to make sure the lights and beacon are functional, and the four screenshots below capture the gist of that. You click to light the device, then to turn off the lights, then to ring the device, and then to stop the ring. All simple enough, and it all worked as it should. To be clear, you can not just "ring" the device, as in simply sound the beacon while in use. You either turn on the flashing lights, or you turn on the flashing lights and the beacon simultaneously. I have to say, from this test, the beacon does not sound very loud and I will have to see how it does out in the wild with all the sounds that can be out there.