The Basics:
The housing of the Breadcrumb is entirely made of translucent blue plastic, which lets you see the inner workings rather clearly. This is obviously necessary in order to let the light from the five LEDs shine through, while also keeping the elements away from the electronics.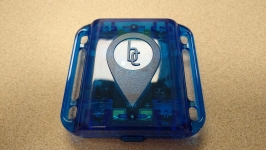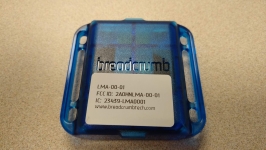 Two of the edges have slots and loops which would allow you to pass straps, belts, carabineers, key rings, or whatever else you might like to use for securing your Location Marker to your gear.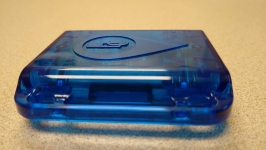 The schematic below shows the components of the Location Marker separated to show the key components of each device. Basically there are two halves to the plastic shell, a PCB, and two AAA batteries (which you have to supply yourself).


The device is opened by prying the halves apart, which does have a rather tight fit in part due to the rubber gasket that goes all the way around the interface. Inside we see the PCB is held in place by two screws, and some simple wiring gets the power to the board from the two batteries. What we can see in this view is that there are no LEDs on this side of the board, meaning that all the lighting is on the opposite side of the board. I'll be sure to check on whether that is an issue or not when I get to testing the device out.