Packaging and Accessories:
While the outer packaging may look different if you buy from a retailer like
Amazon.com
, our review sample shipped from Breadcrumb directly, and arrived in a custom printed outer box.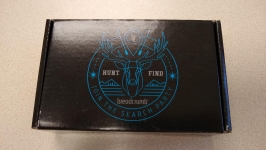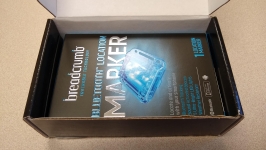 Inside the shipping box we find the retail box for the Location Marker done up in a similar color scheme of black, blue, and silver. This box provides a good deal of information on the product, including an overview of how it used. As mentioned previously you use the GPS on your mobile device to find the general area of the Location Marker, which they refer to as glocate. From there you use the Bluetooth connection to reveal the exact spot, and as indicated on the box this final range to navigate can be 100+ yards (published specifications say up to 150 yards) in size thanks to the strength of the Bluetooth signal.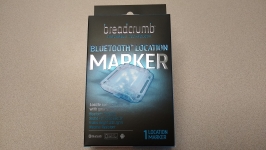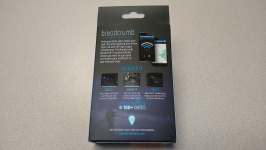 Inside the box you have just a few things, and as shown in the below left image there is a decal, a user's guide, and the Location Marker sealed in an anti-static bag. The below right image shows the contents of the user's guide, and overall the setup and use of the device is fairly straightforward.