Testing:
To test the performance of the
Thermaltake
BigTyp 14 Pro CPU cooler, the idle and load temperatures were monitored while running
OCCT
. The idle condition was established with the system sitting at the Windows desktop with only OCCT open (not running a stress test, but just monitoring temperatures) for a period of one hour. The load condition was established by running the stress test portion of OCCT for a period of one hour.
For comparison purposes the BigTyp 14 Pro was tested against five other coolers.
» The
Cooler Master Hyper N520
with dual 1800RPM, 92mm fan
» The
ThermoLab Baram
with a single 1400RPM, 120mm fan
» The
Cooler Master Hyper Z600
with a single 1400RPM, 120mm fan
» The
Zalman CNPS9900 LED
with a 2100RPM fan
» The stock Intel cooler with a 1050RPM fan
All of the coolers used
Thermalright
Chill Factor thermal paste during testing. The chart below details the results from all of the coolers achieved while maintaining an ambient temperature of 20 degrees Celsius.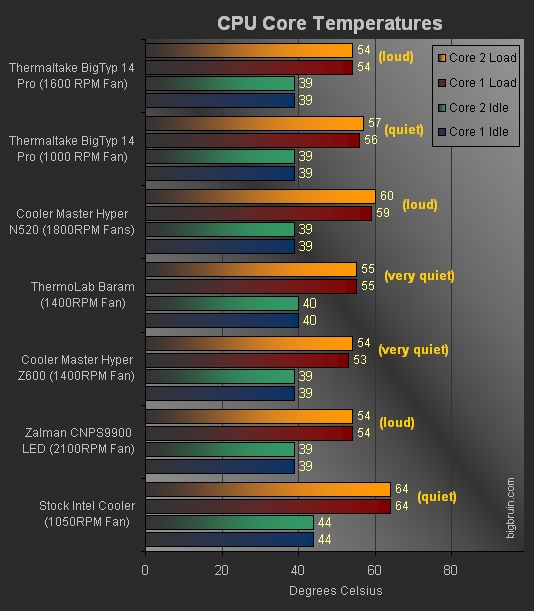 With the fan on the BigTyp 14 Pro at full speed it provides just about the best results seen, with only one degree's worth of improvement seen on one core while using the Cooler Master Hyper Z600 and a 1400RPM. The difference is that the Hyper Z600 was nearly silent, while the BigTyp 14 Pro was loud. Way too loud. Dropping its fan speed from 1600RPM down to 1000RPM increased the load temperature by just 2-3 degrees, but the drop in noise production was incredible. It still was not silent, but it was very quiet and might be indistinguishable in a closed case.