Packaging and Accessories:
The packaging of most Thermaltake products, including the BigTyp 14 Pro, is well prepared for a retail setting. You get plenty of information and images on various sides of the box, as well as a window to see the actual product itself.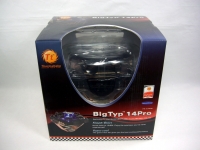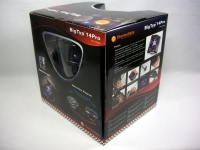 The below left image shows all of the accessories provided. You get some installation documentation, a case badge, a sleeve of rather generic looking thermal paste, and all the hardware necessary to install the cooler on AMD socket AM2/939/754 and Intel socket 775 systems (sorry, no Intel 1366 support). The below right image takes a closer look at the Intel hardware, as that is what will be used for testing. The two steel brackets bolt to the base of the cooler, and in turn the whole assembly is bolted through the motherboard, using the black washers in between the board and the cooler brackets.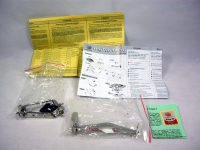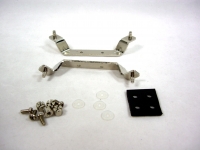 The Basics:
While my first impression of the BigTyp 14 Pro was that it was going to be too massive, looking at it once removed from the box had me partially reconsidering that thought. While the horizontally mounted 14cm fan does give it a large wingspan, it isn't all that tall. If you have room around the CPU socket for it to avoid things like the memory, power supply, and video card, it might actually be a decent solution for a lower profile case, like an HTPC.


We'll start by taking a look at the fan. The images below show that it is a proprietary design where the frame is molded to clip on to the cooler's fins. The whole assembly is translucent black plastic, and the hub of the fan is suspended from the frame. Three little tabs of green PCB extend out from the hub, and this is where you will find the blue LEDs that light up the unit.