Conclusion:
The
LG
BH10LS30 10x Blu-ray burner from
Geeks.com
is definitely worth considering if you're in the market to upgrade your computer to have Blu-ray capabilities. It will not only let you enjoy Blu-ray movie playback, but you'll also be able to read/write Blu-ray discs, DVDs, and CDs at fast speeds. Blu-ray writing is rated at up to 10x, while DVD writing is rated at up to 16x and CD writing is rated at up to 48x. All of these values are near the top of the list when it comes to writing specifications for the various formats.
During testing the drive performed flawlessly for Blu-ray movie playback, and was able to read and write to Blu-rays and DVDs quickly and without error. Under any condition, the low noise operation of the drive was very impressive. Whether reading or writing, you could barely hear the drive, which makes it a great fit for a desktop PC, or an HTPC looking to take advantage of Blu-ray technology.


On the downside, the only potential issue might be with the software suite. While the titles are all functional and useful, they are typically a few versions behind what is current. Additionally, there is the occasional nag/reminder that pops up to let you know what it would cost to get the latest and/or full version of the title you are using. Other than that, my initial concern about the drive burning Blu-rays at 10x - but only being able to source 6x media - was partially allayed. Burning one single layer disc saw the transfer rate max out at 7.1x - just a bit higher than the media's rated speed, but it was not able to take full advantage of the supposed 10x capability of the drive.
Shopping around
finds that the LG BH10LS30 10x Blu-ray burner sells for around $120 (US) at a few other online retailers.
Geeks.com has it for $99.99 (US)
- about $20 less than these other guys. While the price for the LG BH10LS30 at Geeks.com matches up nicely against competition from other stores, it also matches up against comparable drives from other manufacturers. Less than $100 for a 10x Blu-ray burner with software is definitely a good deal.
The LG BH10LS30 10x Blu-ray burner earns the "Recommended" award for its performance and capabilities, while it earns the "Good Value" award for coming in at under $100 at Geeks.com!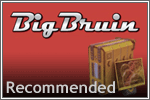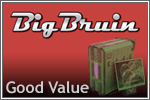 Pros:
» Competitively priced
» Rated to burn Blu-ray, DVD, and CD - all at fairly fast speeds
» Read and write Blu-rays up to 10x
» Quiet operation
» Includes CyberLink suite for burning, movie watching, Lightscribe labeling, etc.
» Includes cables required to make sure you can get up and running quickly
Cons:
» CyberLink titles included in bundle are typically a few versions old
» Rated to burn faster than available media (10x > 6x)
Please drop by the Bigbruin.com Forum and feel free to post any
comments or questions
.