Internal Inspection:
Cracking open the housing for a quick look reveals a rather tightly packed collection of heatsinks, capacitors, and so on. Close inspection and/or some Internet research will reveal that the manufacturer is
Andyson International
, a Taiwanese company that is the OEM for some of today's popular power supply units. The 850W Ultra Products unit that was
just reviewed
is also from Andyson, so they obviously have a few big retail partners.
The layout features two large heatsinks running from front to back and making the wiring to the modular connection's PCB rather tight. I checked closely as some of those big yellow wires looked like they might be pinched between the heatsink and PCB, but they all appeared to be OK.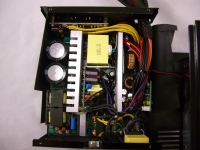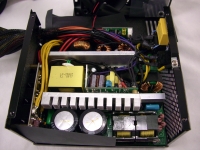 As I educate myself on capacitors I have learned that the bulk of what is inside this unit is of respectable quality. The two large primary units shown to the left in the above left image are Nichicon, while the secondary units are Nippon Chemi-Con.
The next image shows the 135mm cooling fan, and the clear plastic shroud that forces the air in to the rear of the housing so that it can't rush right out the exhaust without cooling any of the internal components. The manufacturer of the fan is Young Lin Tech, the model number is DFB132512H, and it is rated for 3W, 0.25A, 12V.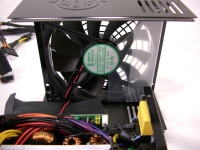 Accessories:
In addition to the power supply, you receive the accessories shown below. There is an AC power cord, the quick install guide, a bundle of modular cables we will look at later, a handful of Velcro cable ties, and a bag of four mounting screws.