External Examination:
My only other experience with a BFG Tech brand power supply is with the LS-680
reviewed here
about a year ago. That unit is still going strong in 24/7 operation in a Folding@Home machine that also doubles as a mid-level gaming system. I reference that unit now because taking a look at the EX-1000 and the LS-680 shows they share a similar appearance.


For what it is worth, the aesthetics of BFG Tech's power supplies appeal to me. The all black color scheme is simple but sporty, and definitely no nonsense. Taking a look at the below left image shows the black 135mm intake fan positioned behind a black wire fan grill emblazoned with the BFG logo. The rear panel features a wide open hexagonal mesh that is only interrupted by the AC power connection and the power switch.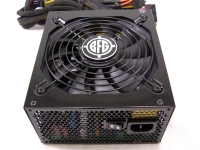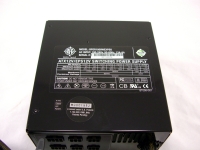 Taking a look at the above right image shows that one surface has been decorated with a data label that confirms the bulk of the specifications seen at the beginning of the review. Each rail is listed with its maximum load, but also with its minimum load, which is 0 Amps across the board. I guess that bit of information just seems obvious to me. One thing not shown here or discussed earlier is that the maximum load is rated at 40 degrees Celsius. While some may reference a temperature of 25C or 50C, BFG Tech has gone with a number just above the average.
The next set of images show the side of the housing where the internal power connections are made. It wasn't until about now that I realized that this unit wasn't quite what I think of when considering modular power supplies. While there is a bank of modular connections (2x "PCI-E" and 4x "Peripheral SATA"), there are more than enough hardwired connections that it might be possible to not need any of the modular cables. I had noticed that there were some hard wired cables, but I assumed they were the typical ones; namely the 24-pin and the 4-pin / 8-pin motherboard connectors.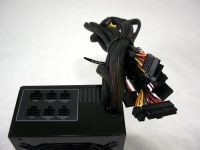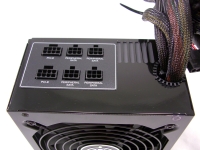 We'll take a closer look at what is hard wired and what is modular on the next page...