In Use:
I was expecting set up to be easier than it was. The battery slides into this sleeve incredibly easily, but getting both into a battery compartment proved to be difficult for many applications I tried. The first thing I tested this on was an Orbit Z-wave hose end controller. The batteries in the device had already failed and there was no display present on the device's LCD screen. So I loaded these Batteroos into the battery tray and found they were so tight you could see a slight warping of the tray as you can see in the image below. While not excessive, this could mean some tighter tolerance devices will have issues getting these to fit. Other devices seemed to be much better, I think in general the lower tech the device, the easier these fit.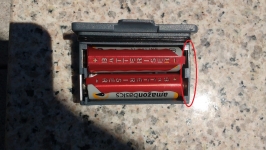 Performance
As mentioned above, my first test of these was with an Orbit hose end controller that had completely dead batteries. After installing the Batteroos, I was amazed to find the unit was back up and running. But that excitement quickly waned. I noticed that the display looked odd. As I looked closer I could see it looked like the LCD was pulsating. If you look closely in the picture below you can kind of see the individual lines being at different intensities as this would pulsate. But if this was the only side effect I would have been happy. It seems as if this pulsation seemed to also affect the Z-wave communication as it had frequent disconnects from the hub. But a bigger disappointment came later that night. Originally these batteries lasted 3 weeks, so if these Batteroos could increase their life by 6x that would be fantastic. But alas I didn't even get 6 hours before my home automation hub indicated the device had a low battery. By morning I confirmed the display was out. So first test did not go well or support their lofty claims.
I also tested these in my sons portable gaming system but the pulsation was even more pronounced and I decided to remove them, since I was concerned they may somehow damage the electronics. So far the only test case I have found these actually seem to work in are remote controls. I have seen no ill effects from using these in low tech devices and the batteries do indeed seem to be lasting a fair amount longer. Problem is I think these batteries have been installed for well over a year. So lasting a few months still isn't proving their 6x life and if they do last that long I am likely to replace the device before we get there.
Conclusion:
The
Batteroo
sleeve does indeed step up a failing batteries output voltage to normal/near normal voltages, but the problem is I think they are using some PWM circuitry to do this. This modulation of the output is what I believe is causing the displays to go all wonky. I do not know enough about electrical engineering to be sure, but my gut tells me this change in behavior can't be a good thing for them and could likely cause damage over the long run. While they do appear to be working without issue in a TV remote control, this is hardly a device that costs me a lot of money in disposable batteries. So I still am not sure I see the use case for this device. But for $10 plus shipping, maybe it is worth it to you to give it a shot in a few devices. Personally though I wouldn't bother; if you are worried about the environment you're better off making an effort to get your used batteries recycled properly.
Pros:
» Cheap enough to get and try out, if you are so inclined
Cons:
» Seems to work with very few devices
» Don't think the device will ever live up to 6x claims
» Could potentially damage battery compartments due to tight fit.
» Concerned about pulsating displays causing lasting damage.
Please drop by the Bigbruin.com Forum and feel free to post any
comments or questions
.