Conclusion:
The
Seagate
Barracuda 7200.12 hard drive turns out to be an efficient drive with a 40% greater read speed than the competing drives. As expected this larger drive did have a slightly slower access time than the competition, however real world transfers indicated this drive would work very well on the typical system.


Please remember that the 7200.12 is a new series of drives, and it should not be associated with the "bad" batch of 7200.11 Seagate drives that had high failure rates late in 2008 due to a firmware problem. Seagate has fixed the problems with those drives and moved forward with this latest generation of Barracudas.
Searching the Internet finds the Seagate Barracuda 7200.12 1TB hard drive for as about $100-$110 (US). This is competitive with other 1TB hard drives on the market, and the performance and energy efficiency make it quite appealing.
Considering price, performance, and energy efficiency, the Seagate Barracuda 7200.12 1TB hard drive earns the Bigbruin.com award of "Recommended".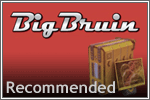 Pros:
» Attractively priced
» Energy efficient
» Beats out the competition with 40% faster read performance
» Not associated with previous generation drives with failure issues
Cons:
» Slowest access time of the tested drives (15ms)
» The included 3 year warranty is competitive but nothing special
Please drop by the Bigbruin.com Forum and feel free to post any
comments or questions
.