Testing (continued):
AIDA64 Extreme Edition 2.50.2000:
The benchmarks in AIDA64 include memory read, write, and copy speeds (MB/s), where higher is better. The benchmark also includes memory latency (ns), where lower scores are better.
"Memory Read" scores improved by 11% once the Sport VLP 16GB was overlocked. The Tactical kit scored roughly the same, with the Elite Series coming in 5% faster than the Sport VLPs maximum overclock.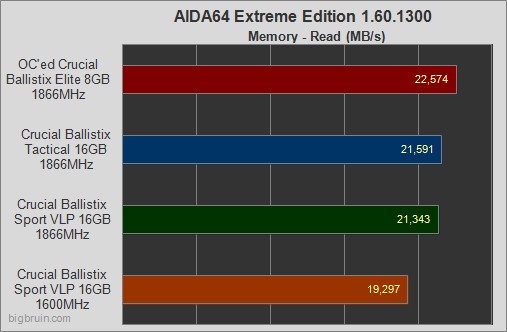 During the "Memory Write" test we observed a 3% bump in performance after overclocking the Sport VLP 16GB kit. This time the overlocked Tactical LP and Elite series kits also ranked very similarly.
"Memory Copy" performance was increased by 14% once the Sport VLP was overclocked. Still, it ranked slightly behind the Tactical LP kit and approximately 6% behind the Elite Series memory.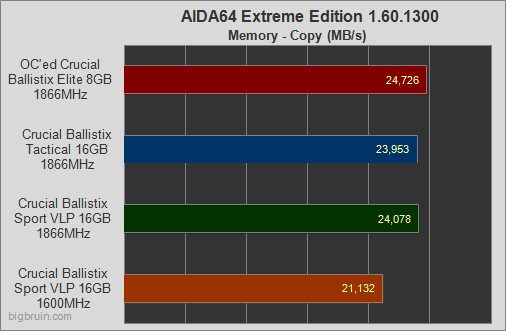 Finally, the "Memory Latency" was tested. The Sport VLP kit was approximately 7% faster once overclocked. This still puts the overclocked Sport VLP kit behind the Tactical LP kit (by 3%) and the Elite series kit by nearly 10%. Its clear the Crucial Ballistix Elite memory is fastest, due to its CL8 timings and 1866MHz overlocked frequency.