Conclusion:
There are tons of high performance heatpipe coolers on the market today, so finding a solution for most computers isn't all that hard. You just have to decide which features are the most important to you, and how much you want to pay. When it comes to equipping a home theater PC with a high performance CPU cooler, things aren't as easy. The cramped quarters inside a typical HTPC limit your choices, and many of the choices you might be left with will be underpowered.
Thermalright
addresses this issue by taking their expertise in heatsink design and developing an enthusiast grade CPU cooler that can fit in to an HTPC case. The AXP-140 heatpipe CPU cooler would make a great cooler for just about any system, but because it is only 70.2mm high it is just the thing for keeping an HTPC running cool and quiet.


The primary complaint I have for this cooler is with the mounting hardware. While it isn't all that easy to install (a common issue with many coolers like it), the main problem is that it just doesn't seem to fit properly. Tested on both an Intel 775 and 1366 processor, I found that the cooler wasn't locked in to place, even with the mounting hardware tightened as far as it would go. This seems to be because they used a knob on the mounting bracket that seats in a dimple in the top of the cooler's base as the means of centering it. Unfortunately, the knob is smaller than the dimple, so you get some play, which may translate in to cooling that isn't as efficient as it could be.
Shopping around finds the Thermalright AXP-140 (just the cooler) for under $50 at places like Amazon.com. If you want the AXP-140 RT bundle that also includes universal mounting hardware and the X-Silent 140 fan, the price is then over $60. Considering that the fan sells for about $12 all on its own, the extra money required to get the RT package seems like a good deal. And no matter how you choose to buy the AXP-140, the performance from a cooler that is compact enough to fit in an HTPC case is very impressive.
Given its impressive performance, universal compatibility, and HTPC friendly dimensions, the Thermalright AXP-140 earns the Bigbruin.com "Highly Recommended" award. And because it can perform so well while barely creating any noise, it earns the bigbruin.com "Whisper Quiet" award.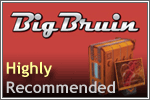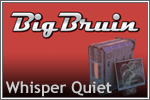 Pros:
» Great cooling performance
» Low profile design allows it to fit in a variety of systems
» Included fan creates plenty of airflow and produces minimal noise
» Excellent choice for an HTPC
» Universal design for Intel 775/1156/1366 and AMD AM2/AM3
Cons:
» Loose fit on socket 775 and 1366 processors tested
» May not fit with taller chipset, voltage regulation, or memory coolers
Please drop by the Bigbruin.com Forum and feel free to post any
comments or questions
.