Setup:
Again August makes setting up a new device very easy through their intuitive app, leading you through the process step by step. In a matter of minutes the device will be connected and ready for use. Here too you can easily configure which location you are installing the device (if you have more than one) so everything is properly configured. At the end of the process you will be given a code to test the keypads performance to make sure everything is working as it should. Overall I was very pleased with the ease of setting this up.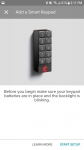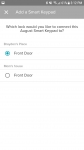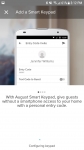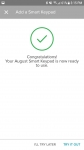 Performance:
Since I had some connectivity issues with the August Connect, I was expecting this device to suffer the same interference issues. But happily I did not see that issue with this device. Maybe this is because the keypad is located closer to the smart lock and in a slightly different plane or because there are not any home automation devices between the two to create interference. But the end result was more in line with what I was expecting performance wise.
The August Smart Keypad buttons have a nice feel when being depressed, there is a positive engagement unlike some buttons that have no feedback what so ever. They are also backlit, so if you don't have your exterior light on someone can still operate the keypad. If you enter an incorrect code you will hear an audible buzz. This isn't particularly loud and I could see in a busy environment it might not be audible. In my rural setting the volume was just fine.
Setting codes is easy enough to do. By going to the Guest list in the app; (for the lock that has Smart Keypad associated with it) you will see a list of users and the Blue # indicates they have a code assigned to them. There is also an emergency code which is generated automatically. Selecting a user allows you to customize the code and set access schedule. Though this is the same access schedule that applies to all lock access for that user. Overall the flexibility of having the keypad is pretty nice but I would have liked to be able to create one time use codes for friends. Maybe this is an option but I didn't see it.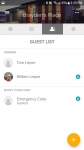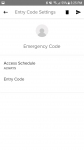 Conclusion:
Overall I thought the functionality of the August Smart Keypad was pretty good. It was slightly slower than using a mobile device, but nowhere near as laggy as the August Connect. As mentioned I would like the ability to generate one time use codes that are not tied to a user; for the one off time a neighbor needs to come by I doubt I would get them to download the app to get a code. It would also be good to have these codes automatically expire in 24 hours so you don't have to worry about that person having unfettered access some other time. I think this might be a good fit for those that frequently have many people come and go like in an Airbnb situation. For me I just can't quite justify the price for the limited uses I have for it.
One of the reasons I really liked the August Smart Lock was that it flies under the radar. No one knows from the outside that you have a smart lock. Installing this keypad lets the cat out of the bag. It is currently available from
Amazon
for around
$60
. Since this is basically the same price as the Connect; if I could only keep one I would actually stick with the laggy August Connect. I am just not sure I have that many uses for an external keypad that I couldn't cover with the Connect.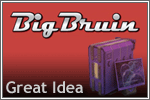 Pros:
» Keypad has positive button presses
» Fast lock response
» Easy installation
» Creating codes for users is easy.
Cons:
» Would like to see single use/automatically expiring code option
» $60 might be a little pricey for most users needs.
» Buzzer sound may be weak for some environments
Please drop by the Bigbruin.com Forum and feel free to post any
comments or questions
.