Setup:
As with the August Smart Lock, installing the August Connect is performed through the app and is very intuitive so long as you ignore the Quick Start Guide included. As you can see in the picture below, it tells you to go to your lock settings and then tell it to connect via Wi-Fi. This option is not there. But from the main menu you can select Set Up New Device as shown below. Then you simply follow the prompts in the app and you'll soon be up and running. Below are a few screen caps from the installation. I installed two of these devices, one was super smooth, the other had trouble connecting and seemed to get stuck partially connected. That is when I had to press and hold the front switch to reset/enter pairing mode.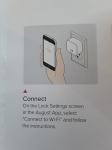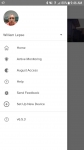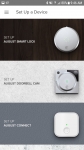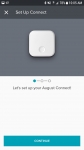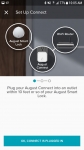 One thing I was very pleased with was the way the app handled installing a device if you have multiple locations. As shown in the screen cap below, the app has you confirm which location you want the device to be paired to.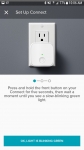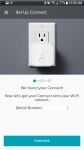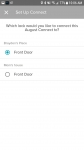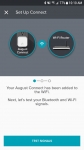 Performance:
So installation was a breeze, but how does this thing perform? Well turns out for me it is a mixed bag. At one location I have a very good connection to Wi-Fi and Bluetooth, the other has a strong Wi-Fi connection but poor Bluetooth signal. So when I try to query lock status, one lock connects in seconds, while the other has taken up to 30 seconds to confirm status. Trying to change lock state can take another 30 seconds. Initially I thought the one just had a bad Bluetooth receiver and/or transmitter since I could place my phone next to the device and have nearly instantaneous operation of the lock. So I called up August tech support who tried to work through the issues with me. The first question they had was how far away my lock is from the Connect, in this case it was less than 6 feet positioned on the same wall so the side of the unit was facing my lock. In this position my Bluetooth RSSI was Poor at (-69). I was then instructed to move it to another location which was further away but on the same wall. Here too the signal was poor but still my mobile device had instantaneous control over the lock. Hearing my concern, the tech support representative said he could send out a new unit but it would cost 50 cents for them to ship prior to me returning the current device back to them. This kind of rubbed me the wrong way, I mean 50 cents is nothing but the idea that I have to pay more to get a functional product just seems wrong. I have since been told they would refund the 50 cents when they receive the unit back, but I suspect if I don't they would charge me full price which was never disclosed. Seems like a better more customer centric method would be to put a hold on your card for the device which gets cancelled when you return it.
A few days later I received the replacement Connect and it actually performed worse than my original device. So I started playing around to see what might be causing the issue in this installation and not the other. In the location with a strong Bluetooth signal the device is about 5 feet away on a perpendicular wall. Here the signal is strong so I was suspect that the metal housing of the lock was inhibiting signal strength, specifically the metal barrel you turn. So using an extension cord I moved the Connect around and found the following: 3" from the lock but mounted on the same wall I was able to get a "good" to "poor" signal. 1' away on the same wall and the signal was already showing only "poor." But having the lock face and the Connect face towards each other I could be about 5' away and it was a solid "good" connection. Talking to August tech support they confirmed the best orientation is to have them facing each other or at a 90. The claim the Connect has reduced Bluetooth strength due to it use of Bluetooth LE. I can't quite understand why they would choose to use this with a plug-in device but they did claim a firmware update that was due to be released February 23rd should help. Since then i have had some faster connections; less than 10 seconds, but I have still had a few that were about double that.
Another big stumble for this product is the lack of being able to set the Connect as primary. As it stands now; whether you are home or away the app will attempt to connect to the lock via Bluetooth. This makes absolutely no sense. It is simple enough to tap the Wi-Fi icon in the top right, but this should be the default. The main reason I wanted to try this out was to limit the amount of devices trying to connect directly to the lock's Bluetooth. If every device still tries to do this there is no point in getting a Connect unless you need remote access. I was told by tech support they have gotten this feedback quite a bit and he thought they were working on it but could make no promises. Quite frankly the product doesn't make sense without this feature.
On the plus side, you can connect your Amazon Echo device or Google Home to the Connect to lock the door and get status. With Echo devices you can also unlock the front door using a pin code. The same may be available with Google Home but with my Connect connection issues I haven't bother to mess with that yet.
Conclusion:
On paper it looked like the August Connect was going to check all the boxes I needed. But the reality is it just doesn't quite live up to my expectations. I guess I was expecting more based on my experiences with their smart lock. While I do have access remotely, it can take over a minute to open or close the door. In the end if your home doesn't have an outlet on a parallel or perpendicular wall that is about 5 feet away I would hold off in purchasing an August Connect. I think you will find the lock operation a bit tedious. But if you do have a suitable outlet location the August Connect is likely to give you quick control of you lock remotely. While I think they need to make the August Connect the default in the app, this seems like a relatively easy thing to accomplish and for many the
$60
current price at
Amazon
will be appealing.
In the end; despite the lags in control I think I will end up keeping the August Connect. Since I don't think it will be used too frequently the slow operation won't be too cumbersome and I think this eliminates the risk of handing out physical keys that always seem to get lost.
Pros:
» Some installations will provide quick response
» Easy installation
Cons:
» Would prefer warranty replacement was handled differently
» Does not default to Wi-Fi connection
Please drop by the Bigbruin.com Forum and feel free to post any
comments or questions
.