In October of 2017 we reviewed the
August Smart Lock with HomeKit
. Overall we thought it was a pretty solid smart lock offering. but were left hoping for a little more. One area lacking was its ability to deal with multiple users smoothly, and for remote access. At the time we thought the August Connect Wi-Fi Bridge might be the perfect solution to these issues. We have one on hand now, so let's see how it actually works.


Features and Specifications:
The August Connect has Bluetooth as well as Wi-Fi capabilities. Once set up it will control your lock through Bluetooth just like a standalone August Smart Lock is controlled by the Bluetooth on your mobile device. But it connects to your home's Wi-Fi so you can control this lock anywhere you have an internet connection. I found very little in the way of specifications for this devicebut from the website and the packaging we have the following.
» Secure remote access
» Smart access allows for full integration with other August devices
» 2.4" x 2.4" white housing with standard US plug
» 802.11 b/g/n (2.4GHz)
» Smart Bluetooth capability
Packaging and Accessories:
The packaging for the August Connect is a relatively small full color sleeve over a cardboard tray. The retail packaging does a good job of conveying what product is inside and what is required to use it but I did find some of the info misleading. In two places they have what looks to be a clock, and the word "Convenient" is printed next to it. While they do go on to explain on the side that this refers to the convenience of being able to lock/unlock from anywhere and see lock activity, when one sees a clock they are likely to think it has scheduling capabilities. It does not.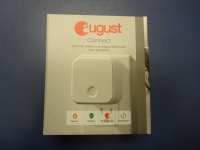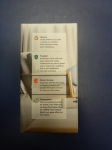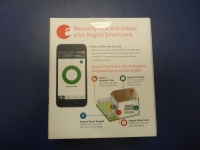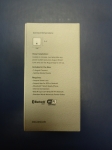 Opening the package you will find a small envelope on top with a quick start guide. Under that you will find the Connect neatly held in place by a formed cardboard shell.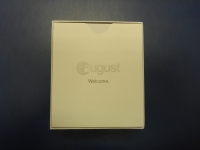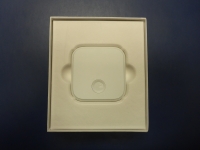 The Basics:
As you can imagine this device is really quite simple. It is a white, square box with the August logo on the front which also happens to be a switch. The switch does not seem to be documented, but during one installation I was instructed by the app to press and hold this to enter pairing mode. The device measures 2.4" x 2.4" and is approximately 2" in depth, not including the plug. The plug is offset to the top of the device which allows you to use both outlets in a standard duplex.