The Basics (continued):
Next we'll go back up to our bird's eye view and break down the important parts.


First up we have our (2) dual-channel 1066MHz capable DDR3 slots which will take up to 4GB of RAM. You can also see the most important - and only - power connector on this board. The provided cable we saw earlier provides power for (4) SATA devices. Because this board only has a 90 watt power supply, any video card upgrade (via the PCI Express x 16 slot) will have to be free of an additional power connector and run entirely off of bus power. The next image on the right show the (4) SATA 3Gb/s ports which are clustered together as far out on towards the edge as ASUS' engineers could put them.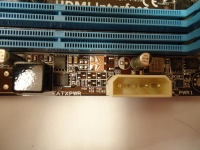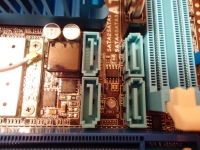 Want to add some cooling to the AT3IONT-I Deluxe? Gotcha covered. ASUS has given us 3 fan headers. They're placed between the gigantic heatsink and the I/O backplate. Next up we have 2 more USB 2.0 headers - the blue things in the image, which will provide 2 USB ports each (provided you have purchased or own a USB bracket) and if you're counting that brings us up to a total of 10 USB ports!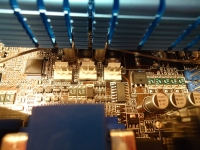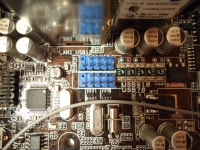 Lastly we see the included WiFi module, manufactured by AzureWave, which is of the 802.11n variety and should provide enough bandwidth to view high-definition video. The image on the right confirms that our board is indeed an AT310NT-I Deluxe board, version 1.01G.