Conclusion:
After spending several weeks playing with the
ASUS
AT3IONT-I Deluxe Mini-ITX motherboard all I can say is - WOW! This motherboard is very impressive. Benchmarks aside - yes this has an "older" CPU - but for its intended home media server application, it performs admirably. With integrated Bluetooth, WiFi, a multimedia remote control, and even a power supply built in, you're well on your way to getting your media center up and running without buying much else.
While we didn't take any actual thermal reading on the heatsink, it did run a bit hotter than the D510MO, but then again it is also housing a much larger graphics solution which is where that extra heat is being generated. The Atom 330 only runs at a minuscule 8 watts TDP, where in comparison the Atom D510 has a TDP of 15 watts.


We were really impressed with the
Seagate GoFlex TV HD Media Player
we reviewed recently, but quite honestly this blows that out of the water. Now mind you, you will have to spend considerably more money than the Seagate solution to build a multimedia device around the AT3IONT-I Deluxe, but the added features and power more than make up for it in the overall experience. Things like the user interfaces (the Express Gate "portal" and the Home Theater Gate application), to the overall power and included features like Bluetooth and wireless (something we wish was standard on the Seagate solution).
Checking our
comparison shopping engine
finds that the AT3IONT-I Deluxe is priced just under $200 (US) from various online retailers, including
Newegg.com
where it is currently $189.99.
For everything this little wonder can do, we give the
ASUS
AT3IONT-I Deluxe Mini-ITX motherboard the coveted Bigbruin.com "Highly Recommended" award.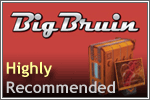 Pros:
» All-in-one multi-media solution
» Integrated WiFi
» Integrated Bluetooth
» Multimedia remote control included
» Built-in power supply with laptop style power brick
» "Upgraded" graphics allow for "light" gaming
» Included applications expand the functionality
Cons:
» Priced at the high end of ITX boards
» Can't use a "regular" ATX style power supply if it ever became necessary
Please drop by the Bigbruin.com Forum and feel free to post any
comments or questions
.