Conclusion:
USB wireless adapters are a convenient and economical way to add WiFi to just about any system. The
ASUS
USB-N10 and USB-N13 are no exception, considering their broad support among modern operating systems, as well as compatibility with a variety of media players.
Testing for this review was rather simple, and was intended to gauge how well these two network adapters would work when compared to another Wireless N adapter installed on a Windows 7 based HTPC. With the original adapter or either of the two ASUS ones, this system had no issues streaming DVD rips from a local NAS or HD content from the Internet, but that doesn't actually quantify their performance. Running a few simple tests on local network and Internet speeds confirmed that the two ASUS adapters do offer faster transfer speeds; in some cases by margins that weren't even close.


The USB-N10 is a great choice for plug 'n play wireless N access for your laptop, desktop, HTPC, or media player (I tested it successfully on a Seagate device, and have read of it working on Western Digital devices). The USB-N13, with its additional features and size, seems less portable and more difficult to conceal, so I would say it is more suited for use on a desktop or HTPC.
A search of the
Bigbruin.com shopping pages
finds both the USB-N10 and USB-N13 for around $20 (US), making them quite reasonable, although not your cheapest options. At Amazon.com the
USB-N10 is $19.99
while the
USB-N13 is $22.84
.
ASUS
USB-N10 and USB-N13 wireless N network adapters both earn the Bigbruin.com "Recommended" award for their price, simple setup, and performance.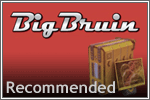 Pros:
» Simple setup
» Slim enough to fit side-by-side with other devices in adjacent USB ports
» Solid performance
» USB-N10 is rated for up to 150Mbps, while USB-N13 is rated for up to 300Mbps
Cons:
» USB-N13 offers more features, but is also much larger
Please drop by the Bigbruin.com Forum and feel free to post any
comments or questions
.