USB-N13 Basics:
The USB-N13 is the larger of the two wireless N network adapters, but it is in no way "large". I described it as being about the size of an adult pinky finger earlier, which I suppose makes it about as large as your typical USB flash drive.


The USB-N13 comes packaged a bit differently than the USB-N10. Instead of a clear plastic case, this time we have a cardboard box that features a clear plastic window so you can still see the actual adapter inside. The various faces of the box are covered with a good deal of information on the product inside, and this time it is in English only.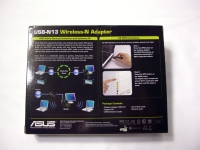 Inside the box we find all of the items shown below. There is a warranty card, a quick start guide, a USB extension cable, a driver disk, a lanyard, and the network adapter.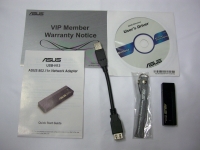 The next two images show the USB-N13 with its cap in place and then with it removed. What I failed to capture in either of these pictures is that this wireless adapter has a small button along one its edges which they refer to as the "WPS Push Button". This button automatically launches a Wi-Fi Protected Setup Wizard for easy configuration of your wireless connection.