USB-N10 Basics:
We'll start off by looking at the
ASUS
USB-N10, which is the smaller of the two wireless N network adapters we're checking out.


The USB-N10 is sold in the clear plastic packaging shown in the images below. From the front you get a good look at the wireless adapter with its cap removed, which is the best way to appreciate just how small it is. The full color paper insert in the packaging tells you pretty much everything you might want to know about the adapter in both English and French.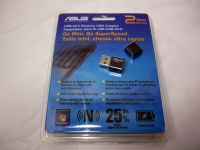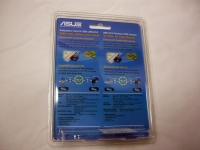 The next image shows everything included: a quick start guide, driver disk, an international list of support phone numbers, warranty paperwork, and of course the USB-N10.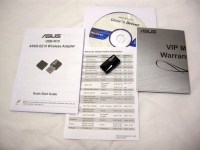 Next we wee the small plastic pill that is all you need to add wireless N network connectivity to your computer. At just over an inch long, it would definitely be easy to lose this device, although it isn't quite small enough that I think you could leave it connected to a laptop at all times. While I have the "nano" receiver from some devices pretty much permanently installed in USB ports, I would worry about this one sticking out just enough to hit things and cause damage to itself or the USB port.