Overclocking:
I am by no means a master overclocker, and in general I will settle for whatever I can get with fairly minimal effort. But, based on what I had seen from this board and other similar boards from ASUS, I was determined to get the processor from 2.66GHz to 4GHz. To be honest, it wasn't that hard and I wound up getting the processor and memory to run faster than I had on the previous board I was using... the Gigabyte GA-EX58-UD3R.
The first set of screenshots don't cover the maximum overclock, but look at the maximum memory speed achieved while maintaining the stock 8-8-8-24 1N timings. It went from 1600MHz up to 1860MHz, which seemed pretty good to me. Relaxing the timings to 9-9-9-27 allowed the memory to get close to 2000MHz, but I could not quite get there and maintain system stability.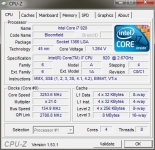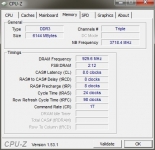 The next set of screenshots detail the maximum overclock achieved for this review. The BCLK was set to 201, while a CPU Ratio of 20 was used, giving an effective CPU speed of 4020MHz. As mentioned earlier, with the CPU voltage set to auto in the BIOS the value was over 1.41V, but taking control of that manually allowed me to lower it to the 1.272V value shown below. Performance was the same, but the difference in CPU temperature was about 15C under load! Since CPU speed was the goal here, the memory divider was changed to maintain a near-stock configuration.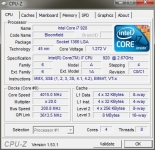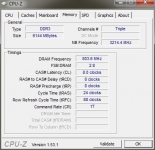 This 4020MHz overclock is most likely not the maximum that could be achieved, but it is where I stopped. Considering I spent less than an hour to get this all set up, investing some time in it could lead to even greater things. That said, any overclocking results discussed in the testing section of this review will refer to this 4020MHz (201x20) setting.
Testing:
The ASUS P6X58D-E motherboard configured with the components listed in the previous section of the review was run through a series of tests in order to gauge its level of performance. The following list details the tests to be considered...
» Performance Test 7.0
» Windows 7 Experience
» SiSoft Sandra Professional 2010
» Everest Ultimate Edition 5.30.1900
» Heaven v1.0
» CrystalDiskMark 2.2
We'll take a look at a variety of tests to detail the performance of the processor, memory, hard drive, and graphics on the ASUS P6X58D-E as compared to another X58 board, the Gigabyte GA-EX58-UD3R.
The tests were all initially executed on the two X58 boards at stock speeds and timings with the hard drive connected to a SATA 3Gbps port. The tests were all repeated on the ASUS P6X58D-E while overclocked to 4020MHz, and with the hard drive moved from a SATA 3Gbps port to a SATA 6Gbps port.