Testing (continued):
Broadband Internet conditions can change from one minute to the next, so
Speedtest.net
was used multiple times over several days for the next set of tests. The results will be averaged to provide a range of speeds received from the closest test host with the routers connected to the Internet through a Cisco DPQ2160 cable modem.
Two key things will be looked at while testing, the speed of transfers and the range. Both of these can vary from time to time and environmental variables. Wireless will be tested at the furthest spot from the router within the house. This location is approximately 65 feet from the router, through 5 walls on a single level house.
The results below detail the average download seeds received with a wired connection by Speedtest.net. For the most part, I was happy with the D-Link router as my speed was typically above that of the neighbors. However, once I setup the ASUS router, my speed further increased! This was immediately noticeable when doing file transfers.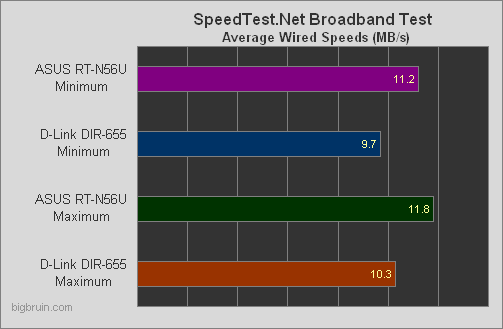 Doing the same test through a wireless connection, the results were similar to the wired connection test. The ASUS router provided better performance over the D-Link, and you could pretty much count on an extra 1MB/s just by switching routers.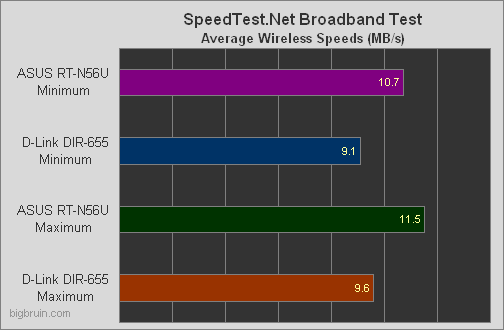 Obviously we all know that the distance from the router will impact the performance. In order to test how far I was able to go from the router and still maintain 100% signal strength, the laptop was placed in a room that would've had direct line of sight had it not been for the walls. The D-Link was only able to get about 45 feet from the router, while the ASUS RT-N56U was able to go 68 feet, which also put it in a different room, providing more potential interference.