Conclusion:
Over the course of this review, my opinion of this card has gradually improved alongside the software and drivers. Initially I wasn't very impressed, but could see the potential. With each updated version of the drivers and player I've become just a little more comfortable with the card. I'm happy to say that today I'm extremely satisfied with its performance. There is still room for further refinement by
ASUS
and Arcsoft, but they've come a long way over the last couple months and have made the Xonar HDAV1.3 Slim into an extremely usable product.
In their defense, it's hard to implement software and develop hardware when the standards have only recently solidified. Designing the Xonar HDAV1.3 line while placating the schizophrenic demands of the movie studios is a nearly impossible goal. Given the licensing issues that
ASUS
and TotalMedia Theatre have overcome to bring us the Xonar HDAV1.3 product line, and the fact that the hardware does indeed bit stream high definition audio, I think they are on the right track.
Anyone needing proof of Blu-rays shifting and continually evolving specification need look no further than their closest stand alone player. Chances are if it wasn't purchased within the last 18 months it doesn't support the HDMI1.3 spec needed to bit stream high definition audio. Therefore, it should come as no surprise that ASUS currently has the only HDCP and PAP compliant sound cards on the market.


The fact that I've essentially had to run all the tests on this card three times with different versions of the software player and drivers is proof that ASUS is committed to making it work smoothly. The early driver and software player versions were littered with small inconsistencies that made configuration a headache. However, the latest software player and drivers seem to go a long way towards eliminating most of the quirks and anomalies. I was able to seamlessly switch between all high definition audio tracks and movies without needing to reconfigure the driver settings, this could not be said for earlier versions of the software. As I mentioned previously, I'm not sure if the lack of media center support is intended to differentiate the OEM bundled version of TotalMedia Theatre 3 from the retail version or if it simply has not yet been implemented in the beta software I used for the latest round of testing. If media center integration is important to you, this could be an issue, so be sure to check into it prior to purchase to prevent any surprises.
I can finally recommend this product to the home theater PC user who is looking for a simple cost effective way to bit stream Blu-ray high definition audio. Prior to the latest software and drivers, this recommendation would have come with many more conditions, but as alluded to earlier, most of those issues with Blu-ray audio appear to have been resolved to my satisfaction. You should look elsewhere if you are primarily looking for a solution to play DVDs.
A quick search of the Internet shows the Xonar HDAV1.3 Slim is available from several retailers with prices ranging from $132 - $155, including
Newegg.com
where the price is
$149.99
.
In summary, I can recommend the
ASUS
HDAV1.3 Slim to users who want to bit stream high definition audio from their home theater PC only if they don't mind dealing with the inconveniences mentioned above. I do however honestly believe this card is only a couple driver updates away from being fantastic, but only time will tell.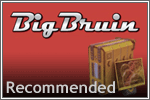 Pros:
» Includes low profile mounting bracket
» smaller form factor a plus for many HTPC's
» No external power source required
» Currently the least expensive HTPC bit streaming option
» Includes HDMI and DVI cables
» Installation was relatively straight forward
» Driver and software support is ongoing
Cons:
» Beta software required to make it work properly
» No apparent integration with Windows Media Center
» Early adopters may have purchased TotalMedia Theatre Player 3 needlessly
» Poor DVD playback.
Please drop by the Bigbruin.com Forum and feel free to post any
comments or questions
.