Installation:
For testing, I installed the
ASUS
Xonar HDAV1.3 Slim into my existing home theater pc system. The specs for my modest home theater and home theater pc are listed below.
Test System Specifications:
» Case - Lian-Li PC-C36 Muse
» Motherboard - ASUS P5N7A-VM
» Processor - Intel Q6600 down clocked to 2.0GHz
» Memory - 2 - 2GB G.Skill PC2-6400 DDR2
» Optical Drive - LG GGC-H20L 16X Blu-ray/HD-DVD drive
» Hard Disk Drive - Super Talent UltraDrive ME 32GB SSD
» Operating System - Windows Vista SP2 32 bit.
Home Theater Specifications:
» Mitsubishi WD60735 60" 1080p DLP
» Denon 2309CI Receiver
» Polk Tsi-200 Front Channel speakers
» Polk CS10 Center Channel Speaker
» Polk Tsi-100 Side and Rear Surround Speakers
» Custom Subwoofer with CSS SDX10 driver and Bash 300W digital amp
To install the Xonar HDAV1.3 Slim in my Lian-Li case I needed to remove the full size PCI bracket and install the included low profile bracket. Once the low profile bracket was in place, installation on the motherboard in the case was fairly straight forward.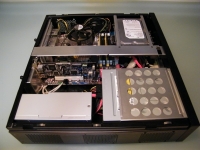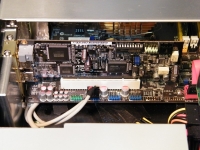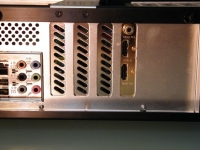 There is a point users of this case and others should be aware of; ASUS put the headers for the front panel connections on the top edge of the card and with my case, there is just enough clearance to attach my front panel leads and install the top cover to the case (see image below). This does put the wires for the connector at a sharp angle and it could eventually result in chaffing or breakage if care is not taken when removing or re-installing the cover. If your case is shorter than this Lian-Li enclosure, you should double check to make sure there is enough clearance if you intend to use the front panel connectors on the HDAV1.3 Slim.
For this review, I chose to use a fresh install of the 32-Bit version of Windows Vista SP2. After some initial issues with the provided version of Arcsoft TotalMedia Theatre and my personal retail copy of TotalMedia Theatre 3 Platinum, ASUS recently provided me a link to a beta version of their updated software and drivers. This updated version of TotalMedia Theatre appears to be based on version 3 rather than version 2 like the originally bundled player. As tested, there was no integration in Vista Media Center. Given the software player's beta status, I'm unclear as to whether this will be added prior to release, or if perhaps Vista Media Center integration is a feature only intended to be available with the full version of Total Media Theatre 3.
After installation of the software and drivers, I moved on to configuring the card's driver settings. This is probably the most confusing part of the card's operation, but if you take the time to read the manual included with the accompanying disk, things are explained reasonably well.
The two pictures below depict the main tab on the HDAV control software. The picture on the left shows the HDMI control properties while the picture on the left is of the analog and S/PDIF audio control properties.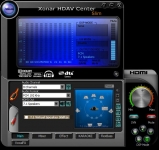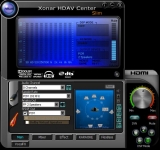 As you can see from the pictures, the Xonar HDAV Center also offers many more control options that fall outside the scope of this review, but warrant mentioning. In addition to the main controls, the Xonar HDAV Center also offers a wide range of DSP effects, software mixer, and Karaoke options. There is also a feature called FlexBass which allows you to define your sound systems speaker size and LFE crossover frequency. Many of these options are also present in most recent audio video receivers, but could be quite useful for those systems that do not include an AVR.