Testing (Continued):
Crysis 2:
Crysis 2 does not officially have an integrated benchmark, however there is a hidden benchmark that can be executed by a simple script. The script runs through twice, and produces FPS based on the game graphic settings. The graphic settings used in this test were a 1920x1200 resolution and Hardcore system specs.
The ATI HD 6750 received the lowest FPS, while the GTX 560Ti received the highest at default speeds. The GTX 275 came really close to the GTX 560Ti, separated by a mere 1.25FPS.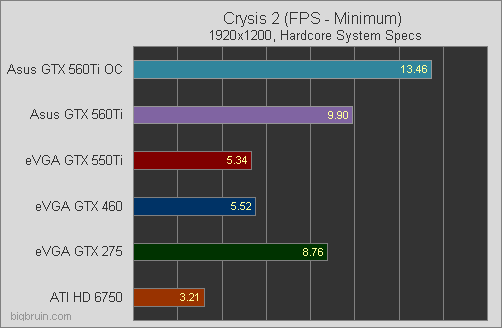 The hidden benchmark also reports an average FPS, and here we can see a big difference between each of the video cards. The GTX 460 and GTX 275 came close with around 10FPS separating them. The GTX 550Ti and HD 6750 were significantly lower.