Conclusion:
After spending a week using the
Arctic Cooling
Arctic Sound P531 USB headset, I have gone back and forth on my feelings about them. After a few hours at a time of almost non-stop wearing them, my head noticed. They weren't uncomfortable, but I can say that I felt "tired", kind of like if you had a long day outside doing something fun. I guess with time, that would go away, and I would be more than willing to give it that time.


The biggest issue with this headset though is the microphone. Maybe it's too flexible, maybe it's not sensitive enough, or maybe it just doesn't do well with my voice. I can say I am not thrilled with the microphone, and if I were to say anything negative about this headset as a whole, this would be it.
The closed circumaural design earcup does do a good job of closing out outside noise. It's important to note that it is not noise canceling like the Bose headsets, but it simply blocks out all sound due to the design. This is both good and bad of course. If you were to try to use them at a local LAN party they would do a good job of blocking out all the surrounding sound, where for example a noise canceling headset wouldn't do as well. However if you wanted to use them some place like an airplane, where noise canceling headsets work very well, you would have a hard time hearing the flight attendants or any announcements from the Captain. It also makes it hard to hear in my house, as I had a hard time hearing my wife when she sat right behind me, or any of my kids trying to talk to me. Again, it has its advantages and disadvantages - just depends on what they are saying.
The inline volume control is also a bit big, with its size and need to be relatively close to the headset itself it kind of gets in the way. I wouldn't like it to be just hanging there, luckily for me I have a large keyboard tray that I can rest it on. Also, while the flashing light is neat, it draws extra power from the USB connection that really isn't needed. I had to switch USB ports on my computer because I have a number of USB devices already on it. If you're really loaded up with USB devices already, you might need to add a powered USB hub to power this headset.
Finally and most importantly is the sound, and the gaming experience. If you are an audiophile who has an expensive sound card then you need to just forget all together about any USB headsets. However, if you are like most of us and use the built-in sound cards, than this headset will produce a very satisfying sound and gaming experience. I can't recommend you rush right out and replace your existing headset, unless you're in the market for a new headset already. If you spend a lot of time talking to other players, I again would be cautious about recommending this headset. While the other players could hear and understand me once I got the microphone adjusted right, they all said I sounded clearer on my other headset. Now if you spend the majority of your time playing FPS, or other solo type games that can take advantage of better sound, then I can say without hesitation that the Arctic Sound Professional 5.1 gamer headset would be worth your time.
We typically wrap up a review by discussing the price and providing the names of a few places that carry the item being reviewed. While we do know the MSRP is around $66 (US), unfortunately we can not find any places in the US that actually have the Arctic Sound P531 USB headset for sale. Even typical Arctic Cooling vendors don't have this item in stock.
After weighing all the pros and cons, the
Arctic Cooling
Arctic Sound P531 USB headset earns the Bigbruin.com "Gaming Approved" award.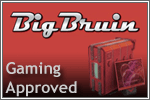 Pros:
» Good sound reproduction.
» Very adjustable, should be able to fit any head.
» Reasonably comfortable, considering the number of speakers in each earcup.
» Brings gaming to life!!
» Cord length is a good size if your system is under your desk.
» Comfortable for long gaming sessions.
» MSRP is very competitive with other 5.1 headsets.
Cons:
» Microphone is hard to adjust in the right position.
» Microphone isn't the highest quality unit I've used.
» Draws lots of power from the USB connector.
» Heavier than a standard stereo headset.
» Cord may be too long if used with a laptop or desktop that is on top of your desk.
» Unable to find any place to buy this headset online
Please drop by the Bigbruin.com Forum and feel free to post any
comments or questions
.