The Packaging:
The
Arctic Cooling
Arctic Sound P531 USB headset arrived in a retail box designed to make sure you get a good look at the product inside. Three windows in the front panel of the box let you see the headphones, the inline controller, and the USB connector.


The back of the box (below left image) provides details on the headset in a variety of languages, as well as providing pictures that detail the motion of the microphone and headphones. The below right image shows the clear plastic insert that holds the headset securely in place prior to your ripping it out for use.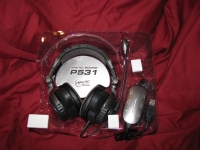 The Basics:
The image below provides a a look at the assembly all piled up. The headphones can collapse against the band that goes over your head for compact storage, and the USB cable is plenty long enough to reach your PC, even if its on the floor beneath your desk. The inline controls are mounted on the USB cable closer to the headset end of the assembly, but not so close that they will be hanging in mid-air while your using them.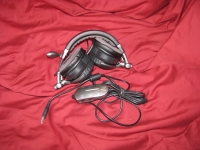 The below left image takes a look at the flexible boom microphone mounted to the left side of the headset, while the below right image takes a closer look at the swivel joint that connects each ear cup to the frame.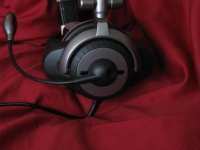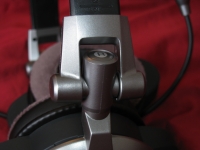 The next image takes a look at one of the soft, fabric covered ear cups.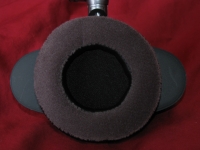 The inline controller is shown in the below left image, where you can see that each dial/switch is well marked, and that you have control over each "speaker" independently. The below right image shows an edge view of the controller where the sub and center dials are found, as well as a switch used to turn the microphone on/off.