Computer gaming has come a long way since the days of Commodores and Apple IIe's. With graphic cards capable of rendering high definition games in real time, games now look like what cut scenes looked like only a few years ago. While enjoying amazing graphics today is easy, and relatively inexpensive, the same can't be said for enjoying the sound of gaming. As a matter of fact, you mostly have two options... Cheap and so-so sound, or expensive and theater-like quality that shakes the pictures off the walls.


Luckily for us there are companies out there trying to fill the void. One such company is
Arctic Cooling
with their new P531 Professional 5.1 gamer headset, shown in the promotional image above. While many of us would like to have a 5.1 speaker set up on our computers and rock the house with our high intensity gaming, for most of us it's simply not an option. For people such as myself who share the house with four other people ( a wife and 3 kids), blaring Call of Duty: Modern Warfare 2 or even my favorite MMO (Dungeons & Dragons Online: Eberron Unlimited) isn't an option, even though I do have a very nice set of 5.1 surround speakers for my PC. So with this in mind, I'm stuck with trying to find a good stereo headset and live without the whole surround sound experience. It has even caused me to do most of my FPS gaming on an Xbox 360 that I have in my bedroom so I can shut the door and keep the sound mostly in there. So while I was looking at a new headset and changing from the 3.5mm plugs to a USB version, Arctic Cooling came around and offered up their P531 Professional 5.1 gamer USB headset for review.
Before we get into my experience with this headset, let's look at some of the published features and specifications, as taken from the
official product page
on the Arctic cooling website.
Features:
» 5.1 channel gaming USB headset
» Installed with special subwoofer to produce deep bass
» Distortion free digital audio
» Microphone included
» Lightweight and highest noise absorption
» Designed for ultimate gamers
» Features 4 individual drivers in each earcup for uncompromised 5.1 surround sound details and dynamics
» Integrated vibration units to provide extra sensation to gaming experience
» Closed cicumaural design to isolate outside noise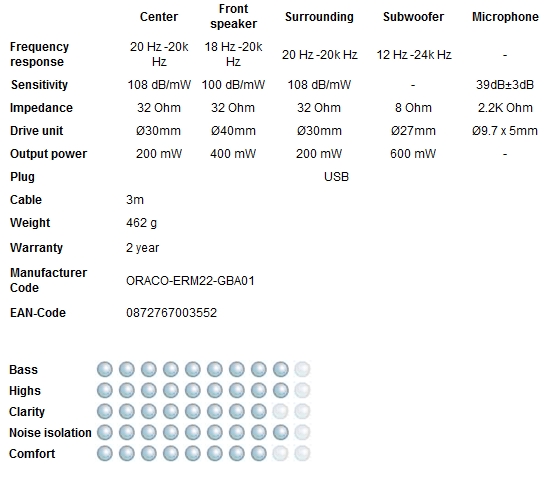 While I was in college I spent a few years working in a Circuit City's audio department, so while I'm not an audio expert, I do have a fair knowledge of audio. And by the listed stats, I can say these headphone should produce very good sound. I would like to see the subwoofer go to a lower frequency, but it should still be acceptable as it is well below the established human hearing range (20 Hz - 20kHz). One of the main goals of a sub is to allow you to feel the bass, and it's not something that a headset can do very well. I also like the 2 year warranty, as it says that Arctic Cooling is sure of the high quality of their headset. Also, with an MSRP of 49,25 € ($66.55 - US) it makes them a good value.