Conclusion :
When using a new mouse, I think there is always an adjustment period to get used to the smoothness and to the new feel; and with the
Arctic Cooling
Arctic M551 gaming mouse there is no exception. It glided over my desk like it was on ice, and I really enjoyed the feeling and shape of the mouse as it fit in my hand. The buttons were all very easily accessible, and at no time did I feel like they were out of place. After I played with the DPI settings and got used to how fast and accurate it made the pointer, I really enjoyed using it.


As mentioned a few times, at the highest DPI setting the Arctic M551 is very sensitive. Luckily there are three sensitivity settings, covering a wide range of DPIs, so something should work for any user and their tasks at hand. Also, I found the laser sensor to have a longer range than any other mouse I have used. So much so that when I reached the end of a page and had to lift the mouse to move it, I had to lift it a good inch off the desk so that the mouse pointer didn't move with it. I found it difficult adjusting to that as the other mice I've used in the past were never like that.
Arctic Cooling has the Arctic M551 gaming mouse listed on their website with a suggested retail price of $24.95 (US), which seems to be a reasonable price for the type of mouse you are getting. Unfortunately it does not appear that anyone in the US is actually selling this product. The "Where to Buy" section of the Arctic cooling website leads to plenty of stores, but none carrying any of Arctic Cooling's mice. Digging deeper on Google doesn't lead to any hits, either.
The overall price and the gamer friendly features of the
Arctic Cooling
Arctic M551 gaming mouse help it to earn both the Bigbruin.com "Gaming Approved" and "Good Value" awards!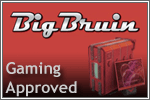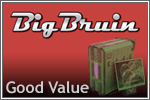 Pros:
» Comfortable
» Ergonomic design
» Able to change DPI on the fly
» DPI setting viewable without having to flip over the mouse
» Fairly priced
Cons:
» High DPI setting can be difficult to work with
» No button customization
» Can not find one for sale in the USA
Please drop by the Bigbruin.com Forum and feel free to post any
comments or questions
.