Real World Applications:
I will have to admit the set up for the Altec Lansing VS2421 could not have been easier, as everything gets connected to the subwoofer. Your power cord, both satellite speakers and the remote control unit all found their way to the subwoofer.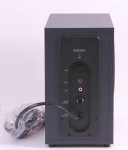 However, the remote control unit had two cords one to the subwoofer and the other to you computers speaker output.


Immediately I could hear a very noticeable difference over a standard subwoofer deficient speaker system. Bass was adjusted on the subwoofer itself while volume and treble found their resting place on the remote control. This seemed acceptable however depending on where you mounted the subwoofer you may need to dive under the desk for any necessary adjustments.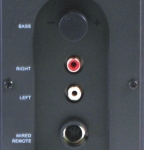 Everything from music to gaming seemed to undergo an audio resurrection, convincing me that if you have the standard 2.0 speaker system you really are missing out. Clarity was fantastic and I was surprised at the amount of bass that was pushed out, even loud explosions showed no distortion.
All was going great and I was enjoying an extra loud gaming session when mayhem struck. Without warning a loud series of beeps and buzzing shot out of the speakers, then a few minutes later it happened again. To my surprise the Altec Lansing VS2421 computer speaker system was not properly shielded from interference. Each time my cell phone received an inappropriate text message from a friend, or an ever so important email from work, it caused havoc on the speaker system.
Just to make sure I had given the Altec Lansing VS2421 a fighting chance I did a few troubleshooting steps, such as updating my sound card driver and trying it on another system to no avail. I had tried everything short of wrapping the receiver in tinfoil, but could not prevent the interference.