Conclusion:
I've said it before, but I wouldn't consider myself a true "audiophile". I know what sounds good to my ears, and with that said, I was really impressed by the sound quality of the Alienvibes W601 2.2 channel PC speaker system. With the exception of extremely heavy bass, they were perfectly crisp and clear at any volume level regardless of the type of music that was played. Its ability to clearly focus the audio from left to right is a great feature when playing games when the directionality of the sound can mean the difference between winning and losing.
The cabinet looks great and the plastic features do not give the W601 system a cheap look or feel at all. This system is meant to be seen as well as heard! Do not hide it under a desk, put it on top of the desk for everybody to see! Plus you need it on top of the desk in order to access the USB/SD ports anyways.


If the quality of the W601 system is an indication of what Alienvibes will be offering in the future, I would love to see what they can do for a more advanced speaker configuration, possibly adding a center channel, surrounds, or wireless/bluetooth capabilities.
While the Alienvibes W601 system sounds great, an issue for me was the lack of play back options such as shuffle, and a seek/scan. These are minor issues however, and not everyone may care about their absence.
Alienvibes currently sells their products through
Amazon.com
, where their speaker line starts around $25 for their base model, and goes up to $150 for the high end W601 set we just covered. If you want a plain set of computer speakers their S101 set would be a perfect match. However, if you want a great set of multifunction speakers with clear bass reproduction, the W601 system would be the perfect set. Considering the quality of the cabinets, speakers, sound and advanced playback features, $150 is a great price for this system.
Taking everything into consideration, the Alienvibes W601 2.2 channel PC speaker system receives the Bigbruin.com "Highly Recommended" award!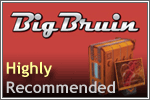 Pros:
» Great sound
» Powerful bass
» Remote
» RCA, 3.5mm, USB, and SD input
» Loud
Cons:
» No "fast forward"; only skip
» No Shuffle
Please drop by the Bigbruin.com Forum and feel free to post any
comments or questions
.