The Basics:
Once the W601 system is removed from the packaging, it can be setup in many configurations as the speakers are connected by a five foot cable. In the picture below, the speakers are positioned right next to the main unit. The main unit has the two 5.25" subwoofers, as well as the USB / SD inputs and the controls.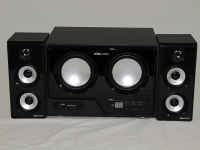 There are two satellite speakers that contain the two 3-inch driver speakers, along with the top 1-inch tweeter speakers. The second picture shows the size of the speakers, at approximately 4"x4"x10" they are decent size but small enough to fit in almost any area.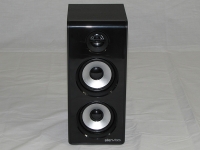 The back of the speakers are devoid of anything other than the five foot cable.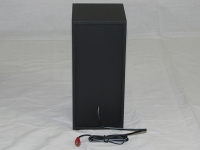 The controls on the main unit were mentioned previously, and we'll take a closer look at them now. The first picture shows the controls on the lower right corner of the main unit. There are a total of five buttons here: mute, input, menu and volume +/-. These are pretty self explainatory with the exception of the Menu button, which will allow you to select the Treble or Bass levels. The IR sensor is also visible in this area. The second picture shows the USB and SD inputs on the lower left corner. Here we find a few additional buttons: EQ, Reverse, Play/Pause and Forward.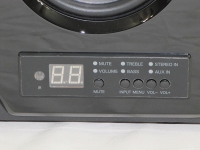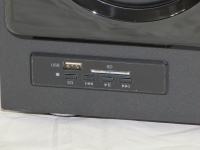 The back of the main unit has a few inportant features, the first being the two large bass vents allowing plenty of room for displaced air to escape rather than being muffled. The other large feature is the cooling fins for the 160W amplifier. Below the cooling fins is a power switch, RCA inputs/outputs, and an 3.5mm auxiliary input connection. Alienvibes includes the cable to connect your device using the RCA inputs, and it would be an added bonus if they also included one for the auxiliary input connection.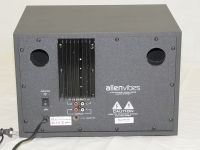 On the bottom of the main unit there are four feet that give the system a finished look, while also keeping it in place and dampening out any vibrations.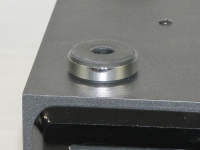 While the included wireless remote is pretty simple, it does provide many different functions. The first is a "soft" power button. When the unit is turned off by this button, the W601 will remember where you are in the playback, and any settings you have customized. The hard power switch on the back will reset these. The front of the W601 has a two digit display; however the remote allows you to jump to over the 100th track. A few more advanced options are that you can adjust the bass and treble at the press of a button. In addition, a few other buttons allow the selection of the input source, and typical back, play/pause and forward options.