The Basics:
The Alienvibes EP02 headphones are circumaural headphones (meaning: over-the-ear) which include a folding ear cup design. Allowing the ear cups to fold in toward the headband of the device makes these traditionally large headphones more compact and travel friendly. Below we have pictured the headphones in their "collapsed" and "open" states.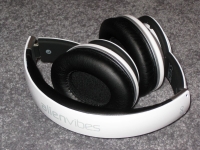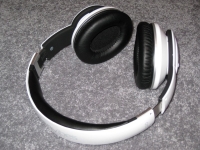 The functionality of the headphones has not changed since our prototype review. The left ear cup continues to contain the 2x AAA batteries for active noise cancelling. In addition to containing the batteries, the left ear cup is the location where the 3.5mm audio cable is inserted. With that being said it should be clear these
are not
wireless headphones.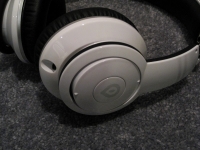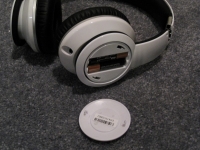 Now lets dive in to the right ear cup. An on/off switch and a momentary mute switch are located on the right ear cup. The on/off switch slides left and right and
must
be switched to the "on" position for any audio to pass through. This differs from other noise cancelling headphones I have previously used and I wish the Alienvibes EP02 headphones worked the same way. Unfortunately the way the Alienvibes headphones are wired means that if the noise cancelling batteries are dead or removed, you will hear no music at all.
The on/off switch has a small LED indicator that illuminates red when the headphones are at a full charge. As the 2x AAA batteries become depleted this changes to an amber color. After reviewing the headphones for a period in excess of fifty hours the headphones did change to the amber color as advertised, but they never died completely. A feature I would request would be to provide an audible "beep" through the headphones when the battery power is getting low. This audible cue would be more noticeable than the LED which cannot be seen while in use.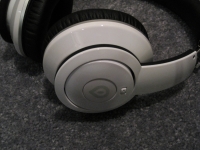 Note: Our original prototype review of the Alienvibes EP02 stated the headphones utilized AA batteries and this is untrue. Alienvibes includes 2x AAA batteries in every retail package of the headphones that they sell. I would also like to add that the battery compartment in the retail headphones is now completely colored to match the headphones, unlike the prototype headphones reviewed in October.
Finally we have the leather headband which measures approximately half an inch thick. The padding is sufficient for the top of your head, just watch out for the one inch witness marks it leaves on your head after extended use.