The Basics:
As previously mentioned in the specifications, the AlienVibes EP02 headphones have a tri-fold design so they are able to be made more compact for storage. The sample that was provided is obviously colored bright red, and other color options will include black, white, blue, green, and pink.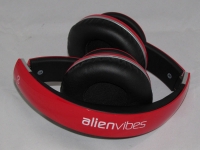 The provided sample is a pre-release version, and one preliminary design item was a logo on the earcup which Ineo Technology has since decided not to use and they asked us to obscure it for the review. Expect markings of a different nature to appear on either earcup when released to retail. The right ear cup has a little power switch that glows red when they are turned on. The manual says the red glow will turn amber when the batteries are getting low. The high gloss finish is noticeable in this picture. Also, the center of the ear cup is also the sound mute button, simply hold the button in to mute the music or game; releasing the button will activate the sound again.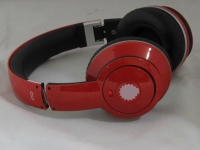 On the left ear cup, is the battery compartment for the required 2 AA batteries. Removing the battery cover is done by simply turning the center ring. This sample it appears that the paint did not finish, as only half of the battery compartment has been painted. The bottom half matches the external area, while the top half is rough and mostly unpainted. This is very minor and does not detract from the quality or visible finish of the headphones.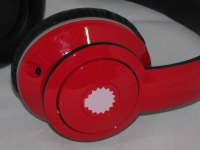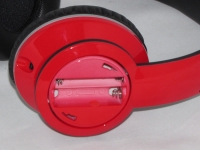 On the bottom of the left ear cup is where the cable will be plugged in. I don't feel it is necessary to talk much about this, everybody has plugged in headphones before, nothing too exciting here.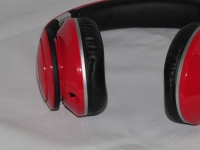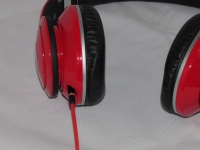 The earcups have a soft leather type material over the cushions. They appear to be factory installed and not able to be user replaced. If they happen to tear or rip unfortunately it looks like you'll have to deal with it. I would like to see user replaceable cushions as it helps to keep the headphones looking great for years to come, no matter how they are treated. In addition, user replaceable cushions would allow them to be changed if the user prefers a different type, such as a cloth or mesh covered (which coincidentally is what I prefer).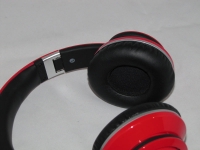 The headband has a half inch of padding, which is covered by the same soft leather type material that the earcups have. Good padding is vital to keeping the headphones from causing pain when worn for a long period of time. After wearing them for an 8 hour work day, the top of my head felt fine, there was no pain from the weight of the headphones resting on the top of my head.