Packaging:
As this is a pre-release sample, packaging can change for retail setting. I would expect the box to have a slip cover providing the user with all the information to know exactly what the headphones are capable of. The external box is pretty sturdy and will provide ample protection during shipping. Inside the box is the storage case and a small accessory box.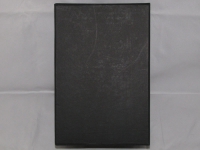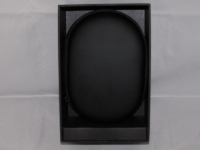 In the little black accessory box, AlienVibes includes everything necessary to use the headphones. Along the top is a soft cloth to help keep the headphones shiny and fingerprint free, a small user manual is included as well. The second row of items includes the AA batteries, an adapter to convert the single headphone plug to an airplane headphone/microphone connection and an adapter to convert the 1/8in (3.5 mm) plug to 1/4in (6.35 mm) plug. The cables will be the most used accessory, they have a smooth rubber feel to them.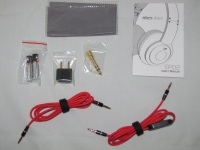 The headphone case is heavy duty, which will help protect the headphones when being stored. While not totally crush proof, it will provide much more protection from a damage than a pouch or nothing. A little caribiner is attached at one end of the case to assist you while transporting the headphones.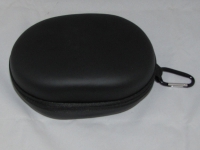 When the case is opened, the headphones are found in a plastic bag intended to keep moisture away. With the headphones removed, a mesh pouch is found on one of the sides of the case. This pouch will help keep the various accessories together.