Conclusion:
I am really impressed by the
Acoustibuds
. My preferred earbuds have passive noise canceling, which is a big help when I want to listen to something without interruption from the outside environment. Something that always annoys me about standard earbuds is how easily they slip out of my ears when at the gym or working outside. The Acoustibuds are not effected by activity or sweat; they stay in place through everything.


A nice side effect of the Acoustibuds is that you do not need to turn your music up very loud in order to hear it clearly. They are designed to focus the sound directly into your inner ear. This helps you keep the sound level low enough so that hopefully you will not suffer any damage from excessive volume.
The only problem I had with the Acoustibuds is that they are currently only available in two sizes. If you have a small ear canal neither the size 5 or 6 will fit. This is the problem I ran into, I ended up needing to hold them in place in order to hear them. However, some friends that used them wound up really liking them. The good news is that there are other sizes of the Acoustibuds coming soon, but until then if you have small ear canals be aware that these might not fit you.
Acoustibuds are currently available at two etailers,
Amazon.com
and
pctoolsandgadgets.com
for a normal price of $19.99. If you can catch them on sale, you can find them for $14.99 (currently on sale at
pctoolsandgadgets.com
). If you have a cheap pair of earbuds, I would recommend buying a new pair of earbuds with passive noise canceling built in. However if you have a good pair of standard earbuds and want to keep them, then buying the Acoustibuds for $20 is a cheap alternative to replacing them.
The bottom line is that Acoustibuds are a "Great Idea" that could prove to be a worthwhile investment for many people.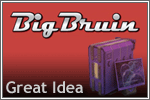 Pros:
» Snug fit
» Passive noise canceling
» Soft and comfortable
» Available in black or white
» Low cost alternative to new earbuds
» Will fit most earbud devices
Cons:
» Two sizes won't fit everybody
Please drop by the Bigbruin.com Forum and feel free to post any
comments or questions
.