Conclusion:
The GTX465 may run cooler than other Fermi-based graphics cards, but that doesn't mean you might not want to think about adding an aftermarket solution to protect your investment and cool things off even more. The
Arctic Cooling
Accelero XTREME Plus does an excellent job of keeping the GPU core very cool under fire. It also runs so quietly that you'd never know it was running unless you put your hand near it to feel the air moving.


There are only two negative things we ran into while reviewing the Accelero XTREME Plus, and neither is a major deal breakers. First, in order to attach the memory heatsinks, you'll need to use the included thermal adhesive. We're not real big fans of going this route because it takes a lot of effort (and luck) in getting them off if you want to swap out the cooler, want to move the cooler to another card (it does use a universal mounting kit, after all), or if you need to return the card for service. We'd have liked to have seen a thermal tape used here. The second issue is with the accessory kit. The stock Accelero XTREME Plus comes sans any mounting hardware. It is up to the consumer to obtain the appropriate parts. We noticed a few online retailers who were selling the Arctic Cooling Accelero XTREME Plus without mentioning it needed these kits and/or not having them for sale. The only place we did find everything you would need was on Arctic Cooling's own website.
A quick check of the
Bigbruin.com shopping engine
reveals that while you can pick-up the Arctic Cooling Accelero XTREME Plus for around $60, you may not be able to get the proper mounting hardware. Your best bet is to go to the
Arctic Cooling online store
and order it directly from them to ensure you get all the parts you need for your application. Going through Arctic Cooling brings the total (for our VR003 kit) to right around $70 before taxes and shipping. That puts the Accelero XTREME Plus right on par with other aftermarket solutions we've looked at previously. At this time, we recommend you only purchase this cooler from Arctic Cooling since it appears that most resellers either don't have the mounting hardware or aren't aware it is needed - not sure who should take the blame for this.
In the end, we give the Arctic Cooling Accelero XTREME Plus the Bigbruin.com "Whisper Quiet" award for it's virtually silent operation. It would have also earned the Highly Recommended award, but there's just too much confusion with mounting kits.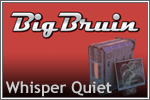 Pros:
» Universal mounting for multiple platforms
» Super quiet fans move a lot of air
» Pre-applied high-end thermal compound
» Works with existing power socket on video card - no need for a converter
Cons:
» Mounting hardware may not be available
» Requires thermal adhesive for attaching heatsinks
» Card takes up three slots once installed
» May be too long for some cases
Please drop by the Bigbruin.com Forum and feel free to post any
comments or questions
.