Installation:
Getting the Arctic Cooling Accelero XTREME Plus installed took about 30 minutes to complete from start to finish. Most of the time was spent on getting the old OEM heatsink assembly off and any thermal paste residue off. As we mentioned earlier, the instructions are fairly straight forward, but one thing to keep in mind before mounting the Accelero XTREME Plus is that unlike other after-market cooling solutions, this one uses a thermal adhesive to attach the memory heatsinks and removing them could be detrimental to your graphics card should you ever need to replace it down the road or send it in for service.
One nice thing we did discover is that while the Arctic Cooling Accelero XTREME Plus comes with an adapter to convert the 4-pin power lead to a Molex connector, it's not needed. The AC fan lead plugs right into the fan header on the card - and works very nicely. The images below are of the Accelero XTREME Plus mounted on an ASUS GTX465 graphics card. The card will now actually take up 3 slots on your motherboard - although Arctic Cooling assures us that the Accelero XTREME Plus is both SLI and Cross fire compatible. Either way, it's best to check your motherboard's user's manual to make sure you have the proper clearance. Also of note, as you can tell from the image on the left, the cooler sticks out a few inches further than our GTX465. You'll want to make sure you have at least 11.5" of clearance to get the card mounted. We were unable to get this mounted on our test bench gear with all the components in an Antec 300 case.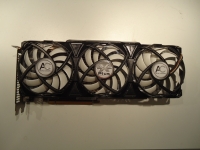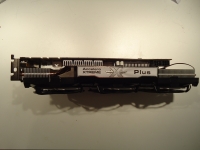 Testing:
In order to put the Arctic Cooling Accelero XTREME Plus VGA cooler through the wringer, we tested it against the stock OEM cooler, and installed on an ASUS GTX465 card in a system with the following other hardware:
» Intel Core i5 750 (2.66GHz) Quad-core processor
» Gigabyte GA-P55M-UD2 Socket LGA1156 motherboard
» ASUS ENGTX465 1024MB PCIe video card
» Western Digital 1TB WD1001FALS SATA 3Gbps hard drive
»
Crucial Ballistix Thermal Sensor 1600MHz DDR3
dual channel memory
» Silverstone SST-ST60EF 600 watt power supply
» Windows 7 Ultimate 64-bit operating system
Our test system is run on an open bench in a room with an ambient temperature of 25 degrees Celsius.
CPUID's Hardware Monitor 1.16
was used for measuring the idle and load temperatures. Idle conditions were established with a 30 minute period where only Hardware Monitor was running. For load conditions, a combination of
FutureMark's 3DMark Vantage
and
Unigine Corporation's Heaven Benchmark 2.0
were run for 30 minutes. All readings were noted and the maximum readings for each run were charted. No additional fans are used in this setup.
The graph below shows the idle condition results for both setups. Right off the bat we have a 6 degree difference in temperature.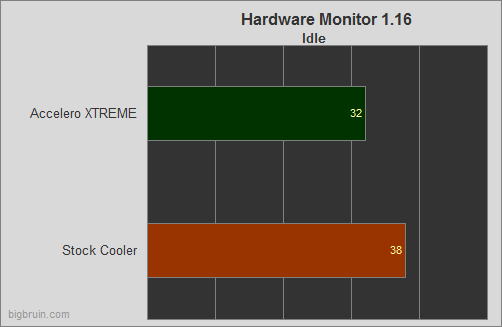 The next graph shows the load condition results for both setups. With an almost thirty degree difference between the stock cooler and the Arctic Cooling Accelero XTREME Plus, we can see that you get what you pay for - at least in this case.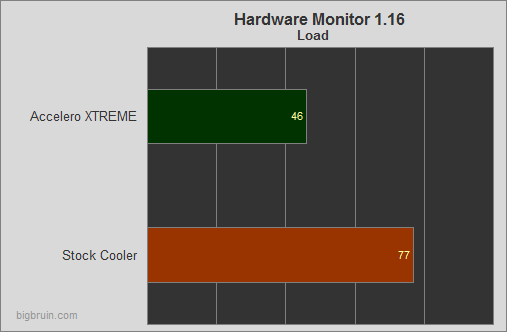 The other thing of note here is that while we didn't use any sound measuring equipment, there was a substantial difference in the amount of noise generated by each cooler. When the stock cooler was at full load, the fan speed ramped up and you could tell it was running. During our testing of the Arctic Cooling Accelero XTREME Plus, we had to keep checking to make sure it was actually on. Even at full load, you couldn't hear it over the CPU fan. Another person in the room actually asked me if the system was on.