Conclusion:
Overall I think this is a fantastic smart watch phone for kids. It might not have all the features of the TickTalk 3 watch, but it does include a step counter and the other features it has just work. At the end of the day I think this is what all users want. Something they can take with them and know that it will do what it was designed to do, day in day out.


The waterproof rating should make it suitable for all activities which means they will always have it with them when you or they need it. The Mickey branding is nice but may be better suited for younger kids, but with another band I could see this being used by kids right up to when you think they are ready for a cell phone.
If I was going to have any complaint it would be with the cost. This watch is currently selling for around
$170
. Several manufacturers make adult watches with more features for around the same price. Part of what you are buying is the back-end that supports the tracking and control of features, so I can see this costing a bit more, but not sure about $170. But for me where this starts to get tough is when you compound this price by the monthly service. I was told by Verizon this device requires a $5 line fee and a $10 data plan, after you add in their typically high fees and taxes you will likely be close to $20/mo. With a device cost of $170 and monthly fee close to $20/mo you could pick up a cheap Android device and ultimately have many more features. But if you really want to keep in touch with your kid and don't want them to have a cell phone this is the best watch option out there. Based on performance this would be my top pick, but when I factor price it would be a tough call between this and the Relay.
All things considered, the Verizon GizmoWatch Kids Smart Watch Phone earns the Bigbruin.com "Great Idea" and "Highly Recommended" awards.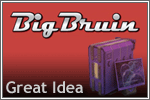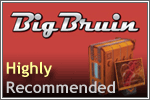 Pros:
» Battery, battery…battery!
» Everything just works, no hassles.
» Coverage is excellent
» Tracking works well
Cons:
» Monthly fees approach a regular cell phone
» Limited number of contacts
» Screen has no protection
Please drop by the Bigbruin.com Forum and feel free to post any
comments or questions
.