Performance:
As mentioned at the beginning, the GizmoWatch is made to run on the Verizon network which will for many mean better coverage. But with the likelihood of better coverage comes a price. Both the TickTalk 3 and Relay can be operated for about $10/month, but the GizmoWatch will run $15 plus taxes and fees. While not a deal killer, many MVNO's offer service with around 5GB of data for around $20, so this seems high to me for a device that can't consume much data.
As you can see in the pictures, while the face is about the same size as the TickTalk 3 the actual screen seems much smaller than the specs would make you believe. Maybe this is partly attributed to the large black border around the screen, but with that said it is plenty bright enough and easily readable in any environment we tested it in. Swiping from this screen will bring up several options for you. In Settings you can adjust volume, ringtones, brightness, themes, and set the watch to wake on tapping.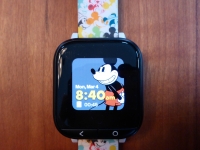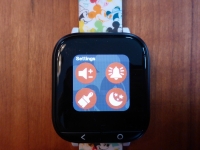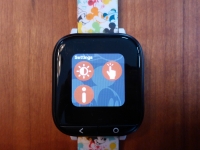 Swiping gives you more options like access to the Contacts, Fun Activities, and Gadgets. The Fun Activities has a jumping contest, a recording feature, sound machine and location to check your steps. Under gadgets you can access a countdown, stopwatch, and see tasks list.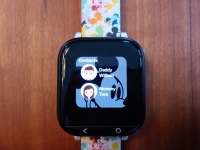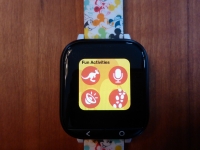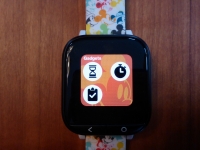 Tracking: Overall I found this to be the best tracker of the bunch recently tested here at Bigbruin.com. It did occasionally take a while to report the location, but each time it did so it was accurate. I think this is due to reliability of the Verizon network over the others in my area. Should you be in a metropolitan area where T-Mobile or AT&T are strong, there may be no difference for you. But with this said I did not have any luck with enabling the GPS tracking log. With this mode enabled it would just sit there trying to locate the device, but if I disabled this and requested an update I would have that in about 10 seconds.
Messaging: I found this to be another strong suit for this watch. Unlike the TickTalk, when a message is received my device shows a notification regardless of whether or not I had the app open. This is a big thing. With this I never missed one of my son's messages. And while it uses its own messenger, it is well laid out and allows for multiple types of messages to be sent from both sides; you can do standard text, emojis, or record a message. My son preferred to send recordings and truthfully it was nice to hear his voice through the day. There is a 120 character limit, but honestly even that would be too much for the tiny screen on the watch.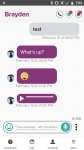 Calls: Calling is easily initiated on both sides and the call quality was excellent. Like the TickTalk, the sound level can be an issue at times but overall you can easily communicate.
Reminders: I like the way this watch handles the to do list. Rather than just giving your child a reminder, this watch sets a time for this activity. While this might not apply to some tasks like making the bed, it is very helpful for things like reading a book. When you set a time for reading to start the watch will play a tone and then display the activity due and time assigned as shown below. When they select start the display changes to show the remaining time. This was much clearer than telling him to read a book only to find him pulling out a simple book and being done in 2 minutes. This reinforces we are expecting him to read for a while.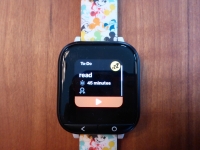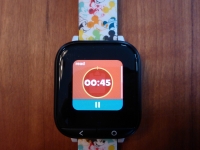 Quiet time: I mostly like how this is handled in this watch. What I like is he still has access to most of the features but things like the sound effects are muted. This is perfect for school. I also like that I can lock this down but if there was an emergency he would still be able to contact me either via phone or by text. But I do wish there was a way to limit this use during Quiet Time to only say contacts that are guardians. This way you don't have to worry about him sending messages to friends at school. The only other issue I have is if he receives a call in this mode the phone doesn't ring and there is no vibration. So he has to be looking at the watch face to know a call or text is coming in. Not ideal but an acceptable trade off.
Battery: Despite having a smaller battery than the TickTalk (600mAh vs 510mAh), this watch can last a long time. I don't think there is a way with normal use to get it to die within a day. In fact we regularly got a full two days of heavy use out of it and may have been able to extend it to three, but there was no need to try since charging was fast and easy. This unit uses the same type of multi-pin charger as the others but the larger base seems to keeps things better aligned and we had no issues with it not charging. I think much of this performance is due to a strong network signal and not constantly searching for Wi-Fi.
Cell coverage: As I mentioned several times, this watch runs on the Verizon network, which for many will yield a better connection. Testing in my rural area proved this to be true. In fact they are so certain of their signal strength this watch doesn't even have Wi-Fi to try to bridge the gap in fringe areas. I am sure there are dead zones somewhere but they did not seem to hamper the operation of this watch.
IPX7: This watch has the same rating as the TickTalk, it can handle up to 30 minutes under 1 meter of water. This takes worries away, you are not worried about them washing their hands, showering, or even playing in the pool. Having this means there really is no reason, besides charging, for it to be off their wrist. Which in turn means you can reach them when you need to.
Kid Friendliness: Overall I think this is a great package that is very easy to use. The selectable items are large enough for easy control and response from the touch screen is great. Navigating the menus and settings is very intuitive and the inclusion of a power and back button make some tasks easier. If I had to knock it for something it would be the band. If you do a search for reviews on this watch you will find lots of reviews complaining about the durability of the band, but that isn't the problem here. They have updated the band to be just like the ones on adult watches, the old one had a simple tab that popped in a slot. That tab apparently broke a lot. This new design is durable, in fact it has a metal clasp, but it is very hard for a youngster to put it on or take it off by themselves. I am sure with time it will get easier, or since this is a 20mm band you could just replace it with something that has Velcro or something.